Since Earning Bachelor's Degree from Polk State, Polk County Sheriff's Sgt. Tracy Smith an Advocate for Education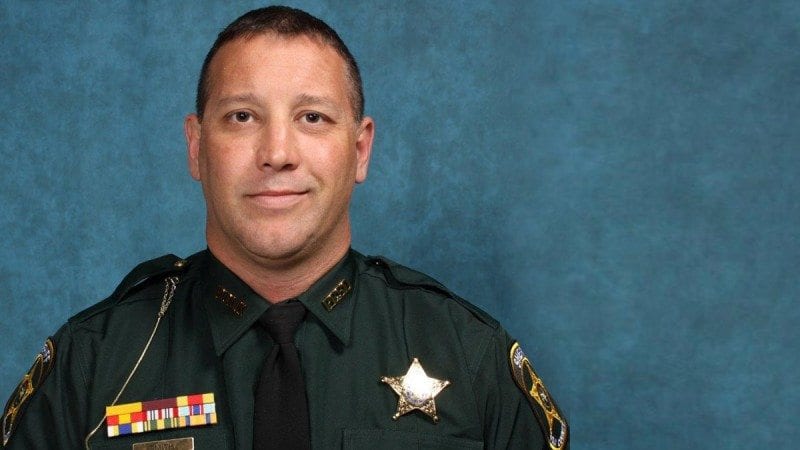 Tracy Smith had worked for the Polk County Sheriff's Office for nearly two decades, doing the things he loves most: solving crimes and helping people.
But he realized that if he was ever going to climb the agency's ranks, and have the chance to influence up-and-coming officers, he had to get his college degree.
He enrolled at Polk State, earning his Associate in Science degree in Criminal Justice Technology in 2009 and his Bachelor of Science in Criminal Justice in August 2014. Polk State offers both the AS and BS in Criminal Justice online.
Today, Smith is a sergeant — and an advocate for education.
"I tell my deputies all the time that they have to get their education," said Smith. "Education is another tool in your toolbox. It teaches you how to think. Nowadays, you have to have your education if you are going to work in law enforcement."
As Smith puts it, he "learned the hard way" just how valuable education is to a law enforcement officer's career.
He joined the PCSO in 1997, with a high school diploma, four years of service with the Air Force and two years of experience with the Florida Department of Corrections.
At the PCSO, he started as a deputy before being assigned to a street crimes unit. He also served as a robbery detective, homicide detective and school resource officer.
"That's when it really clicked for me why I do this," Smith said of his time working in schools. "I felt like I was making a difference in the future."
Ever since that "click," Smith has worked with kids. He coaches junior varsity football and wrestling at Lake Gibson High School, where he uses moments on the sidelines and in the locker room to teach life lessons.
"I always tell them that the game teaches you what kind of man you'll be," he said. "If you get knocked down, are you going to lie there on the field or are you going to get up and try again? If you have troubles with your family, are you going to fight or just give up?"
He also volunteers with Polk County's Teen Court, teaching young offenders a course called Consequences of Crime.
Whether he's coaching football players or counseling aspiring law enforcement officers, Smith's message to young people is always the same: Get your education — now. Smith didn't, and while he found work that he loves, he could only go so far in his career without a degree.
"I wish I would have gone to college when I was younger. It was a lot harder to come back after having been out of school for 20 years," he said.
Polk County Sheriff Grady Judd, a Polk State College alumnus, said anyone looking to enter or advance within the field of law enforcement would be wise to heed Smith's words.
"We have an agency culture that supports higher education. We not only help our members pay for college, we also provide higher pay for members once they get their degrees. Education gives our leaders a broader depth of understanding about the challenges facing law enforcement in the 21st century. Education makes us better — and our citizens deserve that," Judd said.
Smith is now working on his master's degree through Florida State University. Students who graduate from Polk State's Bachelor of Science in Criminal Justice Program are guaranteed admission to FSU's online Master in Criminal Justice Studies Program.
Smith will graduate from FSU in 2016, but even as a 'Nole, he will still be an Eagle.
"I couldn't have done it without Polk State," Smith said. "The bachelor's degree in criminal justice at Polk State is totally online, so it fit my schedule, even if my work shift changed. The convenience was fantastic, and it was the reason I was able to go back to school."
To learn more about Polk State College's fully online Associate in Science in Criminal Justice Technology and Bachelor of Science in Criminal Justice, visit polk.edu/online-polk-state/degrees/.
In addition to online associate's and bachelor's degrees in Criminal Justice, Polk State Public Safety includes degrees and training in Emergency Medical Services and Fire Science Technology, and the CALEA with Excellence-accredited Polk State Kenneth C. Thompson Institute of Public Safety.
Polk State College's history is rich with stories of alumni who have gone on to make impacts, whether in the classrooms and laboratories of prestigious universities, the rough and tumble of commerce, or the halls of political power. Over the years, thousands of Polk State graduates have leveraged their education and experiences at Polk to transform their own lives and the lives of others. This transformation is the essence of what it means to "be Polk." Whether in big ways or small ways, Polk State alumni embrace the challenge of living lives that matter. News@polk regularly profiles these alumni. Their story is the story of Polk. They are The Pride of Polk.