Sheriff's deputy pursues dream of flying for law enforcement at Polk State Aerospace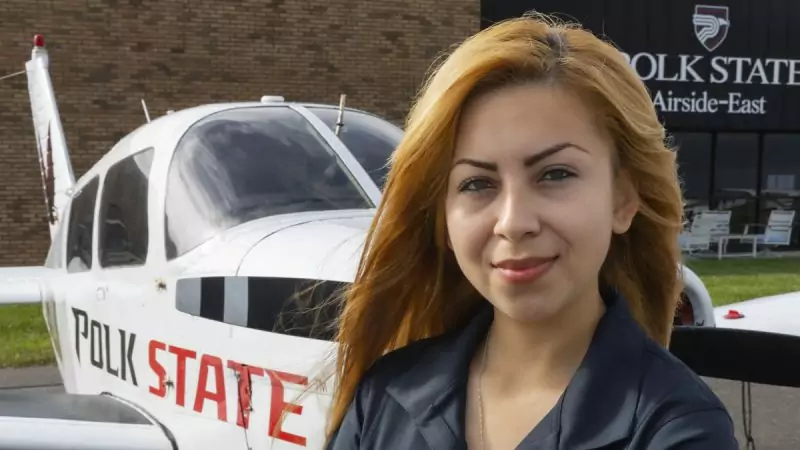 Odalys Hurtado describes one of her biggest challenges as being a petite female in the law enforcement profession, but her ambition is greater than her stature, inspiring her to become a pilot so that she may one day work for her agency's aviation unit.
As a Polk County Sheriff's Office deputy, Hurtado is working on an Associate in Science in Professional Pilot Science in the Polk State College Aerospace Program.
"My ultimate goal is to graduate with all the certifications I need to go into aviation in law enforcement," Hurtado said. "That entails flying helicopters or fixed-wing aircraft when looking for a suspect or a missing person or conducting surveillance – anything that is needed in the air."
"I'm very glad to be here," she added, "both in law enforcement and here at Polk State."
Hurtado is a first-generation-in-college student from West Palm Beach whose parents emigrated from Mexico. She joined the Polk County Sheriff's Office in January 2019 and was quickly attracted to the possibility of serving in aviation.
"I always wanted to go into law enforcement. When you start at the Sheriff's Office, they take you through all the units and I thought the aviation unit was really cool. I thought, 'if they can do it, I can do it,'" she shared.
Now 23 years old, Hurtado reflects on the similarities between her two passions and how she will be able to build a rewarding career doing both thanks to the Polk County Sheriff's Office and Polk State College.
"What has inspired me to go into both law enforcement and aviation is the idea of more women being in those fields," Hurtado said. "Both are very male-dominated fields. We need both men and women, but women bring diverse skill sets that benefit our agencies and different units."
She has quickly become an inspiration, especially for those closest to her including her mother and daughter.
"My family is extremely proud," Hurtado said. "When I told my mom I was going to become a pilot… she couldn't believe it. When I asked her to take care of my daughter so I could go to school… she still couldn't believe it. I told her 'I'm a pilot now,' and showed her pictures, and honestly, she still can't believe it – she is really proud of me."
Her mother is a cleaner and her dad used to own a construction company. As the first generation in her family to attend college along with her older brother, Hurtado says her family is her biggest motivation. Her husband and daughter often wait in the Polk State Airside Center East parking lot while she completes her flight hours.
"My husband points me out to our daughter and she has seen me taxiing the runway," she said. "I do it for them. I do it for my family. I want them to be proud of me."
Hurtado shared how Polk State has made this journey possible for her as a working professional, a mother, and a first-time-in-college student.
"I would encourage others to come to Polk State because it is the best, not just because I attend school here but because of all the positive experiences I've had here from scheduling, to financially, to all the help you continuously get from everyone here," Hurtado explained.
"It's getting more and more expensive to go through (an aviation program). Here at Polk State, it's extremely affordable and the reward is great," she added.
Best Value Schools has ranked Polk State College's Aerospace Program second in the country for the affordability of its degree offerings. Students can save as much as $50,000 in the pursuit of their Airplane Transport Pilot certificates thanks to the Federal Aviation Administration's authorization to certify Polk State graduates at a reduced number of flight hours.
"My favorite thing about flying is that there is always something to learn, just like in law enforcement," Hurtado explained. "My advice for students is to keep studying, work hard, and don't give up, because when you give up, that is when you can't make your dreams come true."