Sheriff Judd at Graduate Polk Breakfast: "Recognize the Value of Education"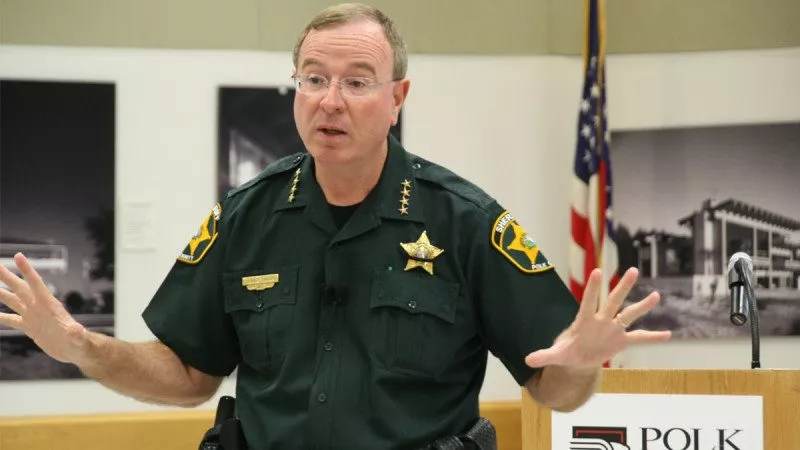 Polk State College on Tuesday hosted business leaders from across the county to deliver a single message: Encourage your employees to attain higher education.
The breakfast event at Polk State Winter Haven's Student Center was a joint effort between the College and Polk Vision to heighten awareness of Graduate Polk.
Graduate Polk, a Polk Vision Education initiative, is aimed at those who completed some college but never finished their degrees.
All of the county's higher education institutions — including Polk State College — have partnered behind the cause, helping to connect students with the information and resources they need to graduate.
On Tuesday morning, the attention turned to area employers, who play a pivotal role in encouraging their employees to return to school.
"We need your help. We need you to reach out and tell your employees to get back in the classroom," said Polk State Associate Vice President for Strategic Initiatives Naomi Boyer, who is also chairwoman of the Graduate Polk initiative.
Polk County Sheriff Grady Judd, the event's featured speaker, discussed the impact higher education has had at the Sheriff's Office — and why it behooves any employer to make education a top priority.
Judd, a Polk State alumnus, began working at the Sheriff's Office as a dispatcher in 1972, when it was a "sleepy, backwoods" agency, he said.
"No one had education. We just reacted to crime. We didn't do anything progressively," he said.
As Judd progressed through his education, earning bachelor's and master's degrees from Rollins College, he even considered leaving the Sheriff's Office for an agency that emphasized education.
"I saw terrible deficiencies with our organization and it wasn't getting better," he said. "I saw how we could and should change, but we continued to do things the same way, with the same results."
Gradually, the agency began to stress the importance of education, and when Judd was first elected sheriff in 2004, he made it a top priority. Within his first term, he required anyone in a command position to hold a bachelor's degree or higher, and instituting similar requirements for civilian employees.
As his employees have attained higher degrees, they've become effective problem-solvers, and inter-departmental cooperation and customer service have improved dramatically, he said.
"Every good thing that has happened in the past 15 years at the Sheriff's Office has been driven by education," he said, adding that he credits his agency's educational attainment with helping it to hold eight nationally recognized accreditations.
The positive effects education has made at the Sheriff's Office, Judd said, can be realized at any organization of any kind.
"For every $1 you invest in the men and women who work for you, you're going to see a return of 10- or 100-fold," he said.
As for the Sheriff's Office, its emphasis on education won't wane, he said.
'Tomorrow we will be a little better than today because we recognize the value of education," he said.
The breakfast closed with brief remarks from Lora Martin, a 2009 Polk State graduate who is now Ms. Florida American Dream; the American Dream beauty pageant promotes a positive outlook on life, family values and community involvement.
Martin shared a bit of her own experience of pursuing a college education while working and raising children as a single mother. Her platform for the Florida American Dream pageant is higher education.
"Everyone has different circumstances, but if you can take a weekend class or a night class or even just one or two classes a semester, you will chip away at that degree," she said.
Another Graduate Polk breakfast is planned for June 3 at 7:30 a.m. at the Publix Corporate Offices in Lakeland. See polkvision.com for more information.