Seungdo Hyun's Immolation on display at Polk State reflects on history and dance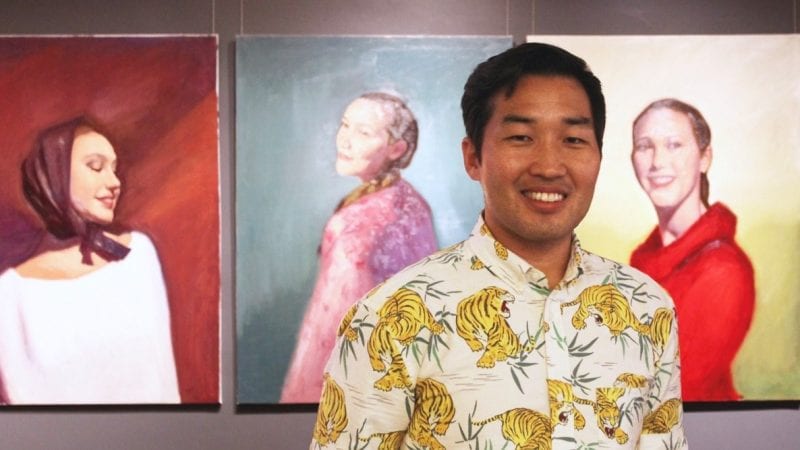 Visitors to the Polk State Winter Haven Fine Arts Lobby are greeted by 10 colorful oil paintings exuding the personalities of ballerinas and the characters they played in the Ballet Conservatory Dance Centre's production of Immolation.
Accompanying the lifeful portraits are stark reminders of the Holocaust – a wheelbarrow with a mountain of shoes representing belongings confiscated from prisoners of concentration camps, and a recording of the Ballet Conservatory Dance Centre's performance inspired by "Schindler's List" in which the paintings are lifted from the stage to reveal the women in grey, stripped of their lives and happiness.
Artist Seungdo Hyun shared during a reception for the exhibit in the Polk State Winter Haven Fine Arts Lobby that the paintings illustrate moments of happiness for the women before the Holocaust.
"They are reflections of what used to be for them before war caused tragedy in their lives," Hyun said. "I don't know the women personally, but I was drawn to different colors that would create individual personalities for each of them, showing the audience who they were and that they were once happy."
Hyun, who was a student of Polk State Professor of Art Holly Scoggins, was commissioned by Ballet Conservatory Dance Centre Director Karlo Lawlor to create the portraits.
The performance was part of the Centre's 36th annual Student Dance Concert that took place in the Polk State Winter Haven Fine Arts Theatre in May and June.
Nancy Lozell, Program Coordinator of The Arts for the College, was drawn to Hyun's work and coordinated with the artist to bring the collection back to campus.
"We are fortunate to have Seungdo's art on display for students, faculty, staff, and the community to experience," Lozell said. "This collection tells a powerful story and Seungdo, who has been a Polk State student, represents the quality of the College's arts programming."
Seungdo took Scoggin's figure drawing course, which he says brought balance to his artistic abilities.
"I used to be afraid of getting into the details in fear of making mistakes, but Professor Scoggins taught me not to be afraid of the details and that has allowed me to grow as an artist," he said.
Hyun's Immolation is on display in the Polk State Winter Haven Fine Arts Lobby at 11th St. N.E. through Aug. 30.