Second Scholarobotics Class Conducting New Research, Preparing to Present in France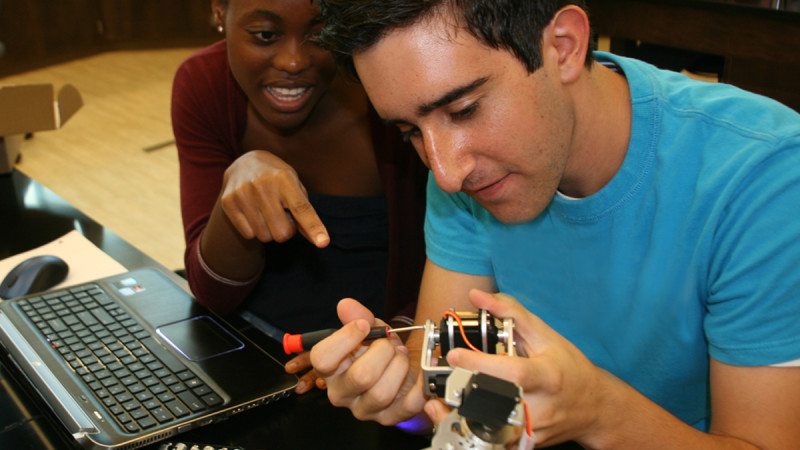 If you think summer vacation is still about sleeping in, watching TV, and getting a tan, you obviously have not met the 16 students studying in Polk State's second Scholarobotics Academy.
These high-school juniors and seniors, far from wiling away their summers by the pool or under the covers, are building what could be precursors to the next generation of medical robots and preparing to present their work to an international gathering of robotic surgeons later this year in France.
Oh, and to top it all off, they're earning college credit, too.
"The program has grown significantly," said Suzanne Halverson, professor of anatomy and physiology at Polk State Chain of Lakes Collegiate High School who teaches in the program, which is a partnership with Winter Haven Hospital.
"We have double the number of students participating, and they represent high schools all across Polk County. What these students are receiving is a realistic introduction to working in a healthcare environment — and opportunities to learn and work alongside professional physicians. The students are getting to do some amazing things."
This second edition of Scholarobotics kicked off June 22, drawing 16 students from high schools including All Saints Academy, Bartow and Haines City international baccalaureate, Lake Wales, and McKeel Academy of Technology, as well as Polk State's collegiate high schools.
At the start of the program, the students were promptly divided into groups of four and five — to better acquaint them with the team-care approach of modern medicine — and tasked with projects developed by Dr. Ahmet Gudeloglu, a research fellow at Winter Haven Hospital's Robotics Institute & Center for Urology.
Those projects, as you might expect, are far from the classic homemade volcano.
One group is building a robotic surgical assistant that will transfer sutures and an ultrasound probe in and out of the surgical field. Another group is building a robotic arm that would irrigate the surgical area with saline, as needed by the physician for visibility. A third group is building a robotic arm for microsurgical suturing. Yet another group is developing a teleconferencing system — picture an iPad on wheels — that will allow a physician to talk face-to-face with a patient's family or other members of the medical team, even if the physician is on another floor of the hospital or in an entirely different ZIP code.
The projects vary, but collectively they represent huge gains for the field of robotic surgery. Gains that are being made in a Polk State classroom.
"Right now, this is all just for the students' projects," said Gudeloglu. "But once we demonstrate that what they've created works, these projects could eventually be used in real robotic procedures."
If that possibility is mind-blowing to the outside observer, imagine what it's like for the students. Just weeks ago, they were lugging their backpacks through the halls of high school, and now here they are, conducting research that could advance a whole medical specialization.
"I had no idea this was what we would be doing. It's pretty crazy," said Matt Doyle, who will be a senior at McKeel Academy of Technology in August. "I thought this would be just a normal college class but with some robotics on top of it."
The students' projects, Halverson said, are especially challenging because they are so cutting-edge that little published research exists. They're exploring all these new avenues of robotic surgery with little to guide them along the way.
"It's pretty intense," Halverson said.
Scholarobotics wraps up on Aug. 6, but it will hardly be the end for these students. They'll spend the next several months continuing their research and refining their projects. Then come November, they'll present their work at the Third Annual Robotic Assisted Microsurgical & Endoscopic Society (RAMSES) Symposium in Strasbourg, France. That event, which in its first two years took place in Florida, draws speakers and surgeons from all over the world.
Dr. Sijo Parekattil, director of urology and robotics at Winter Haven Hospital who teaches in Scholarobotics, is a founding board member of RAMSES.
Halverson said funding details are still being worked out — some students may receive assistance from the Polk State Foundation — but the hope is that all 16 students will attend the RAMSES event.
To complement the robotics portion of the program, students have also been conducting a number of dissections, including sheep brains, cow eyes and cats, all of which strengthens their understanding of anatomy, physiology and medical terminology.
They're also completing an online portion in which they study hypothetical patient cases, delving into medical histories and symptoms to make diagnoses, determine treatments and give prognoses. Halverson said the cases may not be real, but they're all a good introduction to "professional problem-solving."
Students have also spent time at Winter Haven Hospital, gaining first-hand experience with the $2-million da Vinci Surgical System.
Lecturers during the program have included Halverson, Gudeloglu, Parekattil and Dr. Jamin Brahmbhatt, a urologist at Winter Haven Hospital.
For all their work, the students will receive three college credits in Biological Issues — but also experiences that will long influence them both educationally and professionally.
"I'd like to be a doctor. The work we've done here has helped me learn about conducting research and being able to go back and retrace your steps if you encounter a problem," said Dhaval Jivanji, a senior at Bartow International Baccalaureate and Lakeland resident, as he and his teammate investigated an electrical problem with their robotic arm.
"It's been great exposure and a great experience."
Polk State operates Polk State Lakeland Collegiate and Polk State Chain of Lakes Collegiate in Winter Haven. These public charter high schools allow students to fulfill requirements for their high school diplomas while also earning college credit — all at no cost. In many cases, students graduate with both their diplomas and associate's degrees. A third high school, Polk State Lakeland Gateway to College Collegiate High School, will begin in August to help those facing the most difficult of circumstances complete their diplomas and earn college credits.