School Spirit Soars at Contest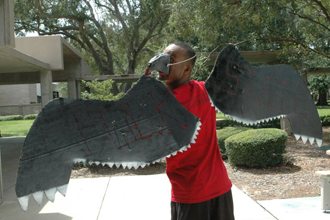 Polk State students, faculty and staff showed their pride Friday with lots of red and black — but the proudest of all was Joq Louis.
Louis, who spent all night crafting eagle wings and a beak from cardboard boxes, was the winner of an iPad, the top prize in a Winter Haven SALO contest that challenged students to get creative with their College Colors Day outfits.
"I am so proud of this school. I love this school. I wish I could buy this school one day," said Louis, just moments after being judged the winner in the contest, coming out on top of students in face paint, black fishnet stockings, red-and-black striped socks and feathers.
College Colors Day is an annual celebration begun seven years ago by The Collegiate Licensing Company. Colleges and universities nationwide have embraced the opportunity to promote school pride — which was exactly the point of the Winter Haven SALO event.
Louis said he started his costume at about 11 p.m. last night and worked on it until the early hours of the morning. Though he may only wear wings and a beak for special occasions, he said he's never short on Polk pride.
"I love the atmosphere of the school, the people, the teachers, the staff. Everyone makes me feel like I matter," said Louis, a Winter Haven resident pursuing his associate's degree. He is the incoming president of Black Student Union, an Eagleteer, and a member of Men of Distinction and the Student Government Association.
Holding his iPad and grinning from ear to ear, he said he couldn't wait to get it home and load it with music.
Also competing was Misty Meyer, who hollered "Soar, Eagles!" and blew an airhorn during the contest. Hung Nguyen decorated his red and black outfit with feathers and performed a breakdance. April Gillett accessorized her outfit with black and red socks and sparkly red bows. Riley Richards composed a cheer for the event, "Eagles, Eagles, soar, soar, soar, bring out your talons, we want more!" Shelaine Roustio was on the same track as Louis, sporting an Eagle mask along with her red and black "conductor hat," as described by Winter Haven SALO Director Carlos Parra.
Louis was chosen as the winner based on applause from the crowd assembled in the Winter Haven Student Center.