SALO Awards Recognize Outstanding Clubs, Members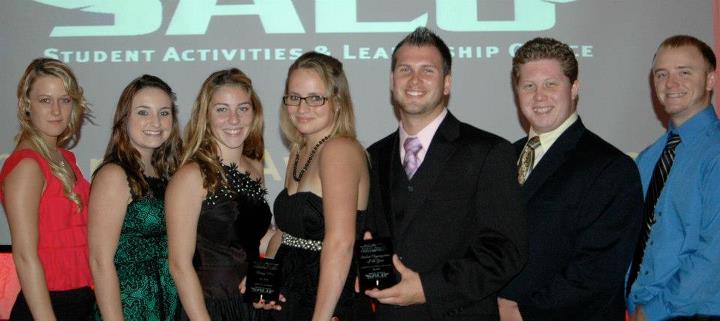 Polk State College's Winter Haven SALO — Student Activities and Leadership Office —staged its second-annual awards ceremony Thursday night to recognize the contributions of student organizations and their members.
Winter Haven SALO Director Carlos Parra said student involvement on campus is healthier than ever.
"Our students are diving right into student life. They're showing up saying, 'How can I get involved?'" he said.
Members of the Winter Haven Student Government Association select the winners of the banquet's top awards —Student Organization of the Year and Adviser of the Year.
SLAM! — Students Living A Message — received Student Organization of the Year, repeating its win from the prior year.
SLAM! was formed on the Winter Haven campus in summer 2010. SLAM! members educate their fellow students on issues such as the dangers of alcohol, tobacco and illegal drugs; the importance of practicing safe sex; and the prevention of other high-risk behaviors. It is an affiliate of the Denver-based BACCHUS Network, which promotes and supports peer-education organizations led by students and young adults.
Among the events SLAM! organizes are a weeklong recognition of World AIDS Day, offering free STD and HIV testing, and Beer Goggles and Jail Bail, which involves sobriety tests for students wearing Fatal Vision Goggles, which simulate the effects of alcohol impairment.
In the coming year, SLAM! plans a new event to coincide with the Great American Smokeout, an annual American Cancer Society initiative to encourage smokers to quit.
SLAM! adviser Cate Igo, also an academic success counselor, said she is proud of the impact the club has made in just two years of existence.
"(SLAM!) members are the most amazing kids in the world and they have the biggest hearts," she said.
Former SLAM! President Tyler Ewles, who oversaw the events that contributed to the organization's award, said everything the club does is with others in mind — but its members certainly benefit in the process.
"It's a joy to help other people. If we helped just one student at every event, it was worth it," said Ewles, who graduated from the College in the spring and has been accepted to both the University of South Florida and the University of Central Florida.
SGA members selected their adviser, Parra, to receive the night's Adviser of the Year award.
"What really solidified it is when you think of student life and student activities, you think of him and his interaction with students," said Josh Austin, SGA secretary and fiscal liaison.
"When students come into the SALO office, they could easily just talk to people at the front desk, but he goes out to the lobby and talks to them as if they were peers."
In addition to the night's top awards, each organization awarded a Most Valuable and Unsung Hero award.
Recipients included:
Black Student Union: Most Valuable, Raquel Earle; Unsung Hero, Ashunti Manning
Eagleteers: Most Valuable, Deborah Davidson; Unsung Hero, Andrew Wooddell
Florida Nursing Student Association: Most Valuable, Brittany Parr; Unsung Hero, Aaron Whitman
Green Club: Most Valuable, Janis Davis; Unsung Hero, Stephanie Davis
Honors Club: Most Valuable, Ryan Darley; Unsung Hero, Jake Wilson
Music Department: Most Valuable, Casey Howard; Unsung Hero, Daniel Clewis
Occupational Therapy Association: Most Valuable, William Craig Bowen; Unsung Hero, Kimberly Galloway
Polk State Chronicle: Most Valuable, Vernon Aguirre; Unsung Hero, Rhonda Chagan
Physical Therapy Association: Most Valuable, Jorge Espinosa; Unsung Hero, Andrea Williams
SALO: Most Valuable, Josh Austin; Unsung Hero, Lilia Mesa
SLAM!: Most Valuable, Tyler Ewles; Unsung Hero, Tiffany Jouppi
Student Government Association: Most Valuable, Juan Martinez; Unsung Hero, Aaron McElwee
Theatre Department: Most Valuable, Tina Mitchell; Unsung Hero, Charlie Sigler
Appreciation Awards were also presented to History Professor Erin Duce; Psychology Professor Greg Harris; and Associate Vice President of Communications and Public Affairs David Steele.