Retirees Honored at Fourth-Annual Luncheon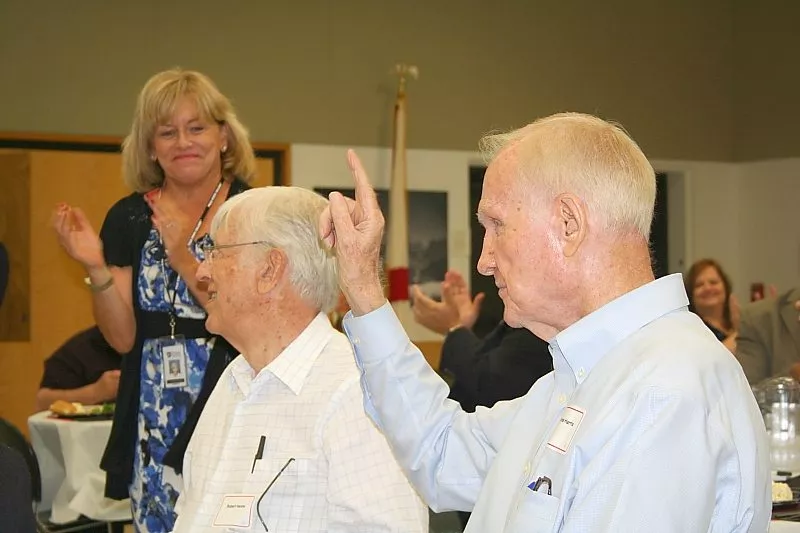 Polk State College retirees swapped stories and shared memories with those who have followed in their footsteps during the fourth-annual Retiree Luncheon on April 12.
Each spring, the College hosts the Retiree Luncheon to connect with former employees and thank them for their years of service. This year, for the first time in the event's history, retirees were seated with employees who currently hold their positions.
"We wanted to introduce you to the people who currently have the privilege of working at Polk State College," said President Eileen Holden to the nearly 100 attendees, including 37 retirees, assembled in the Winter Haven Student Center.
"We stand on your shoulders and your vision to make this college so great."
After an invocation by student Josh Austin and entertainment provided by the College's music department, Professor of Health & Wellness Laurel Smith showed attendees simple exercises to help them stay in shape during their retirement. Chuckles filled the room as attendees joined in, marching in place and stretching their backs.
Winter Haven Provost Sharon Miller gave a presentation on the expanding collection of art on display on the Winter Haven campus, including works by glass artist Dale Chihuly and local folk artist Ruby Williams. Miller also spoke about Polk State's expanding art efforts in Lake Wales, following the College's late-2011 acquisition of the Lake Wales Arts Center (now called the Polk State College Lake Wales Arts Center).
Presentations also covered the College's 2011 rebranding, and plans for its Clear Springs Advanced Technology Center in Bartow.
Rounding out the event was a game of "Polk Trivia," which tested retirees' knowledge of Polk State's 50-year history.
Controller Teresa Vorous took in the event while seated by Ruth Lee, who worked for 21 years in the College's business office.
Lee recalled processing Pell Grants using index cards and the long hours spent hand-counting money after students paid for their classes.
"We'd work into the wee hours many nights to get everything done," Lee said.
All that changed in the late 1970s, when the College began adopting computer technology, Lee explained.
Hearing about how the business office operated in the days before computers was an eye-opening experience for Vorous.
"It's amazing how comparatively easy computers have made our jobs," she said.
Retired English Professor Lottie Tucker was seated next to Ernie Ivey, program director for computer information systems and multimedia.
"It's great to come back here and wonderful to see how people have changed," Tucker said.
After 24 years of work for the College and six years serving on its District Board of Trustees, Polk State College will always be a special part of her life, she said, and she looks forward to returning each year for the luncheon.
"I made so many wonderful friends here and got to work with so many wonderful students," she said.
Ivey recalled some sage advice Tucker gave to him on his first day of work at the College.
"I liked to wear a lot of bright colors. I was wearing yellow pants and a yellow shirt. Lottie asked that I tone it down a bit," said a chuckling Ivey.
Radiography Program Director Beth Luckett lingered after the event, chatting with Miriam Spisak, who oversaw the creation of the program she now leads.
Luckett was a student under Spisak, before the program was equipped with state-of-the-art equipment and a simulation lab.
"We were just talking about how Miriam needs to come out and see the lab. She'll be amazed," Luckett said.
The most gratifying moment for event planner Brenda Edwards, executive assistant and office manager in the President's Office, may have been a statement made by retiree Norm Small on the sidewalk outside the Student Center after the program:
"I have never been more proud of Polk State College than I am at this moment. This was wonderful," he said.