Retired Professor Donates a Portion of Her "Jeopardy!" Winnings to Polk State College Foundation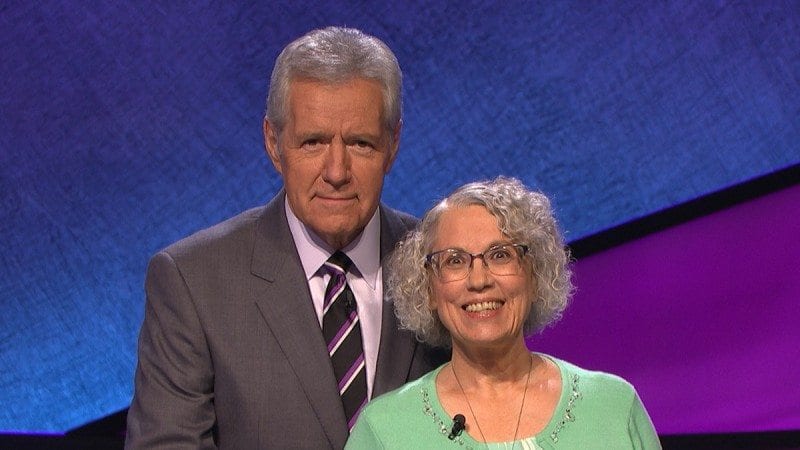 A retired Polk State College professor who won more than $10,000 on the game show "Jeopardy!" has donated a portion of her winnings to the Polk State College Foundation.
"It's to give students the opportunity for an education so that they can succeed in life, just like I succeeded on 'Jeopardy!'" said Kathy Riley.
Riley, who taught at Polk State for 27 years before retiring in 2009, fulfilled her lifelong dream of competing on "Jeopardy!" earlier this month. Riley won the first night she appeared on the show, July 9, but came in second the next night.
Between her two appearances on the show, Riley won $10,400.
Riley has donated a tenth of her "Jeopardy!" take  to the Polk State College Foundation.
Riley said that during her time at the College, she coached students competing in Brain Bowl, an academic competition. That experience helped her to win on "Jeopardy!" and she wanted to do something to give back to the College.
"The Brain Bowl was the specific reason I was able to win," she said. "The day that I won, there was a question about chemistry. I never had chemistry in high school and had only a brief introduction in college. What enabled me to win was what I had learned about chemistry while coaching Brain Bowl."
Riley made her donation in honor another retired Polk State professor, Helene Schulz, who died on July 8, a day before Riley's first "Jeopardy!" episode aired. Schulz taught at Polk State for 16 years and was among one of the first people Riley got to know when she came to work at the College.
"She was very supportive of me when I was a new faculty member, and she was just wonderful to everybody," Riley said.
Riley donated to the Rainbow Emergency Scholarship and Loan Fund, a fund Schulz established.
Riley had this message of encouragement for students who will benefit from her donation:
"Polk helped me to win on 'Jeopardy!' she said. "The students who benefit from this scholarship can reach the stars and go anywhere they dream."
With her remaining winnings, Riley hopes to participate in the College's upcoming study-abroad trip to Stonehenge.
The Polk State College Foundation Inc. is a tax-exempt corporation whose purpose is to provide Polk State College with resources for the advancement of the College, its students, faculty, staff and other constituencies in fulfillment of the College's mission.