Retired Faculty Member Marshall Ledbetter Remembered for Dedication to Students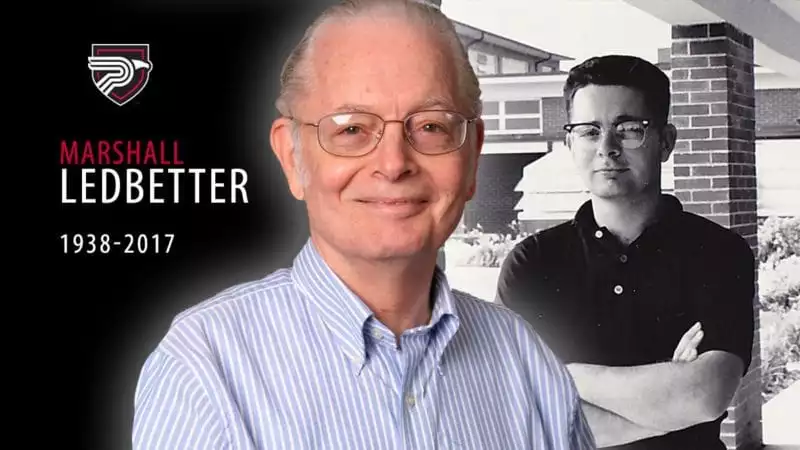 Marshall Robin Ledbetter leaves behind a camera shop, thousands of books, and a legacy at Polk State College as a retired faculty member and the patriarch of a family with many alumni.
The lifelong educator, avid reader, and entrepreneur died Oct. 8 at the age of 79.
Ledbetter started his career at Polk State in 1965 – then Polk Junior College – at the former World War II Army Air Force base in Bartow. He retired in 1999 after 34 years of teaching.
"The only thing he didn't miss was grading papers," said Carla Savage, his daughter and a Polk State alum. "His purpose in life was to teach and even in retirement he always worked – he was in the camera shop the day before he passed away."
Words used to describe him at his service included "patient, wise, unassuming, private, witty, and introspective," Savage said.  He was proud to support his family through his teaching and business, and he was committed to his career in education.
Ledbetter was born in Birmingham, Alabama, on May 10, 1938, to Howard and Bessie Lee Guthrie Ledbetter. He was raised in Tampa and was the first in his family to graduate college. He attended the University of Tampa, Ohio Wesleyan University, Oakridge Institute for Nuclear Studies, and Florida State University, where he earned his bachelor's degree in Science Education.
He started his teaching career at Plant City High School in 1960 before coming to Polk State, where he taught math, science, and computer programming.
Catherine Frank, a former student of Ledbetter's who is now a math professor at Polk State, remembers him as a kind, understanding educator who went the extra mile for his students to ensure that they were successful in his class.
"He had the patience that I needed as a student," Frank said. "I remember being in his office crying, trying to learn how to factor, and he never once made me feel stupid, he just kept working with me until I got it."
Ledbetter not only taught Frank math, but also photography. The ultimate lesson he taught her, however, was the importance of caring for students.
Math professor Paul Pletcher shares a similar memory of Ledbetter. They were classroom neighbors for 15 years.
"He was kind and gentle, and knowledgeable about a lot of things," Pletcher said. "He was always very dedicated to helping his students and putting in the extra time they needed to be successful in his classes."
Savage recalls as a child visiting her father's second-floor office in the science building on the Winter Haven campus. Ledbetter's office was filled to the brim with books, Savage said, as was the family garage.
But it wasn't until Savage enrolled as a student at Polk State that she "really got to know my dad and learn what his passions were."
"He was always interested in how things worked," she said. "He was always reading and he was always prepared for class."
He had a reputation for being one of the hardest professors, but students expressed that they were glad to take his class because they learned so much, she added.
"He was demanding and expected students to learn, but he was kind and understanding in his approach, and helped them be successful," Savage said.
Ledbetter also taught a non-credit photography class at Polk State for a few years.
He opened Marshall's Camera in downtown Auburndale in 1980 and the family is successfully operating it today.
The Ledger reported in 1987 that it was Ledbetter's former wife, Sharon, who was the driving force behind the camera shop, which was a solution to Ledbetter's hobby of buying and selling used cameras, which wasn't helping the family's cluttered garage situation.
Ledbetter told The Ledger then that he enjoyed teaching because he felt like he was contributing something, "to the students and their future, and to the body of knowledge as a whole."
Today, Ledbetter's family boasts a great number of Polk State alumni.
His children Christina, Carla, and Arlen, are graduates of Polk State, and his eldest son, Marshal, Jr., took classes at the College, although he went on to receive a degree elsewhere.
Of Ledbetter's 13 grandchildren, granddaughter, Livia, is a Polk State Chain of Lakes Collegiate High School graduate, and granddaughters, Robin and Wren, are current Nursing students.
"His legacy certainly lives on at Polk State," Savage said. "He was an icon in the community."