Pup brings joy & motivation to Polk State Softball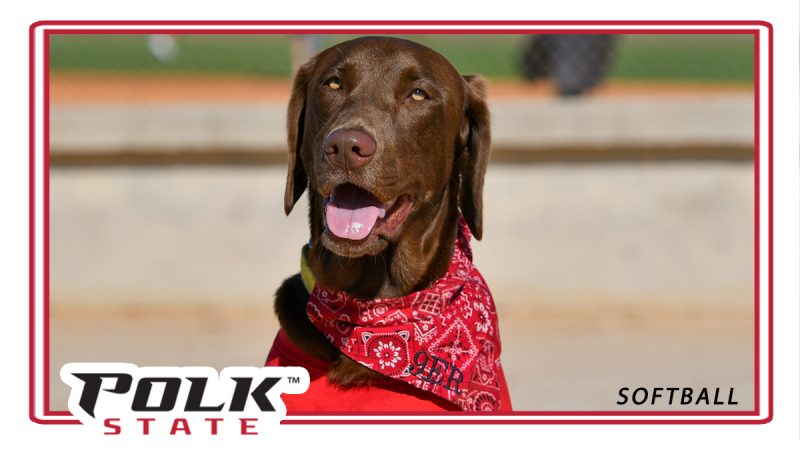 Polk State Softball has gone to the dogs.
Well, actually, to one dog: Niner, a 2-year-old Labrador retriever owned by Head Coach Donna Byars.
When Byars first brought Niner to a team practice, the players immediately made her their canine companion.
Brianna Moffit, a sophomore from Plant City, sums it up:  "She gives us more energy and she makes us happy!"
And who wouldn't want that?
"She's a good distraction," Byars said. "She's not a therapy dog, but people love dogs and she helps relieve the stress of things. She distracts from the negative and helps us focus on the positive because she's just a happy-go-lucky kind of dog."
Anabel Ramos, a sophomore from Wauchula, credits Niner with helping to relieve stress.
"She brings good vibes to all of us," Ramos said. "When we see her, it's like everyone puts a big smile on her face. It's kind of like motivation for each one of us."
Research shows that the simple act of petting a dog can reduce blood pressure and lower levels of stress hormones.
Not only the players but also Niner benefit from their time together.
"She's high energy so her being outside being able to run and chase balls and get tired kind of helps with her activity level," said Byars.
She admits, however, that Niner's endless enthusiasm can have its drawbacks.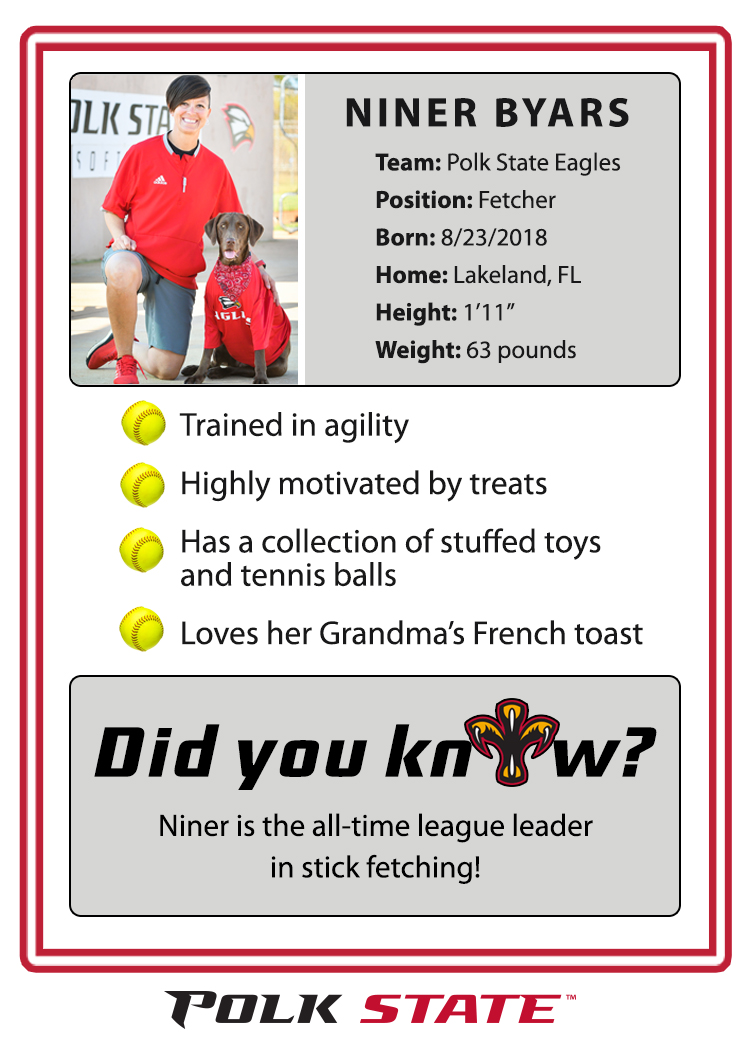 "The players love Niner. They want me to bring her every day, but it stresses me out at times because it's kind of like having a two-year-old child who you have to look after," she said. "She just won't stay in one spot. She wants to chase the ball when I'm hitting it, so sometimes I feel I have to watch her more than paying attention to practice."
"But she's such a positive influence," Byars added. "She's happy to see the players and they're happy to see her and then she's like, 'OK now let's play!'"
Why the name Niner?
"Nine is my favorite number," said Byars. "And I couldn't think of a name that didn't remind me of someone else or their pet so the name Niner kind of just stuck."
Niner has also stuck with Eagles softball, and it looks like a win for all.
Catch the Eagles in action — and possibly meet Niner — at upcoming doubleheader softball games. Polk State plays St. Petersburg on April 1, Hillsborough on April 6, and Florida Southwestern on April 15. Games start at 5 p.m. and 7 p.m. at the Diamondplex, 999 Ave. H N.E. in Winter Haven. Admission is free.