Proud Eagle: Eberts Works, Talks With His Hands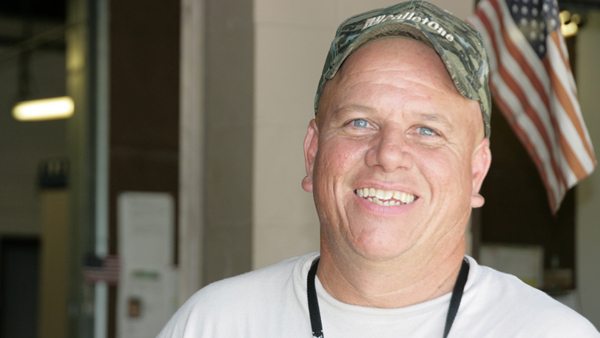 In a world rampant with stereotypes, Bill Eberts knows what people see when they look at him.
He's a burly guy with a New York accent. His job is the kind that requires a tool kit and a workman's shirt — one of those with his name stitched on the chest.
It's the outward appearance of a blue-collar fix-it man who knows toilets and air handlers — and that's about it. For those inclined to judge a book by its cover, Eberts seems like an easy read.
"People look at me and just see the guy with a wrench in his hand and grease all over his fingers," said Eberts, a maintenance mechanic at Polk State Lakeland.
What people learn, if they bother to dig a little deeper, is that for nearly his entire life, Eberts has used those "greasy fingers" to communicate with the deaf, and now he's using those experiences to inspire students at Polk State College.
A Hearing Boy in the Deaf World
Eberts' memories of his childhood in Astoria, N.Y., are largely silent.
His father, a glasscutter who now lives in Las Vegas, was born deaf. His mother, who has since passed away, lost her hearing at age 14 when she became sick with Scarlet Fever.
The two met through deaf social clubs in New York City. They had three children. All could hear.
Eberts is the youngest.
He started learning to sign at 5. By 7, he was his parents' interpreter. Salesmen, neighbors, repairmen — he communicated with them all for his parents, helping to settle household business far beyond his years.
Yet, his role as pint-sized translator was just one of the ways in which having deaf parents forced Eberts to grow up faster than other kids he knew. When your mom can't hear, she doesn't know you've fallen outside and are hurt. When your dad is deaf, he doesn't hear you cry out when you have a bad dream.
"I know my parents always loved me, but sometimes you need to hear love, too," he said.
"I didn't have a lot of people to talk to."
To make things worse, his classmates often teased him about his parents.
"Not many other people can understand what it's like to grow up with deaf parents," he said.
Today, children with deaf parents have resources for support, particularly Children of Deaf Adults Inc. (CODA), an international nonprofit that began in 1983 and offers educational opportunities, summer camps and conferences. According to the American Sign Language University, 90 percent of children born to deaf adults are hearing.
But when Eberts was growing up, CODA didn't exist, and he faced and felt the struggles of his childhood mostly on his own.
All of it — the silence, the teasing, the isolation, the growing up faster than he might have otherwise — created an anger in Eberts.
"I had a lot of resentment in me, toward my parents and toward God," he said.
To escape it, he turned to alcohol. He had his first drink when he was 11. Seventeen years later, he was homeless, living in a box on the streets of New York City.
All the while, even when his benders lasted days or weeks, Eberts' mom would light a candle for him and place it in the front window of his childhood home.
Yes, she loved him. She was always there for him. She couldn't hear the pain in his voice, but she knew it was there.
In January 1991, Eberts stood outside the house, saw the candle, and knew he had to let the anger go.
He went to rehab. He's been sober ever since.
Accepting His Gift
As he made peace with his past, Eberts began to see his ability to sign as a true gift. He may have been forced to learn the language, but now that he knew it, he could communicate with a world most of us largely ignore.
"The deaf feel so lost," he said. "For people who know sign language, it really is a gift that they'll have for life."
He remembers the moment that started his change of thinking. He was in his late 20s, shopping in a supermarket in New York, when he came upon a deaf customer struggling desperately to communicate with the store manager.
Eberts, like he had as a child, played the role of translator, settling a price dispute between the two.
"The customer was irate because no one could understand her. I started signing to her, and I saw the relief in her eyes when she knew someone could understand her," he said.
"That's when I knew I had something that could help people."
He's had many moments similar to the one in the grocery store through the years —at amusement parks, at hospitals. He even signs during Alcoholics Anonymous meetings, helping the deaf achieve sobriety.
Eberts had always been good with his hands in another way — as a maintenance mechanic. He worked as a plumber in New York, including for public schools and for a private college preparatory school.
In 2002, after attending the funerals of numerous friends killed in the Sept. 11, 2001 terrorist attacks, Eberts and his wife decided they wanted out of the big city. They didn't want to raise their two daughters in the hustle and bustle anymore.
"And 1,200 miles later, we ended up in Winter Haven," he said. "It was a spontaneous decision. We needed a change."
He thought he'd go to work for Walt Disney World, but ended up working in maintenance at a mobile home community, then as director of facilities at the since-closed Cypress Gardens Adventure Park.
Seven years ago, he began working at Polk State Lakeland, and he's loved it ever since.
At Polk, he's found a place to use his mechanical skills — every day, he's fixing air conditioners, solving plumbing problems, and a slew of other jobs that are so essential to keeping the College running — but also a place that's eager to receive his personal experiences, too.
He's served as an interpreter on campus, and been welcomed into the classroom to give guest lectures to students studying American Sign Language.
"I think hearing his story makes everything more real for the students," said Debra Gilbert, who teaches American Sign Language at the College and has invited Eberts to speak to her classes.
"The students respond very positively to him. Hearing his story correlates with what they've been told in class. People don't think a lot about those who have been raised by deaf parents; (deafness) is sort of an invisible disability.
"(Eberts) grew up faster than others, and he lived between two worlds — the hearing world and the deaf world. I think the students take away that you can rise above something like that, that you can rise above those challenges."
Just like many would never expect that the "maintenance guy" could have a place at the head of the classroom, others may never think one of the College's biggest cheerleaders would be found replacing an air conditioner valve.
But that's Eberts — he's not what you might expect. He's so much more.
"I love working here at Polk. I love the word 'Polktastic,'" he said. "I love the red and black. I bleed the red and black."
Eberts' love for Polk, and his ability to contribute more than his job description requires, endears him to everyone he meets at the College, said Polk State Lakeland Provost Steve Hull.
"Bill Eberts is an absolute joy to have on campus. He is high energy. He starts his day shot out of a cannon and doesn't let up until it's time to go home," Hull said. "His pride in Polk State College is infectious."
Eberts, it seems, is just getting started here at Polk. He'll soon begin studying for his Associate in Arts degree and plans to continue on for his Bachelor of Applied Science in Supervision and Management. He also plans on publishing a book about his experiences growing up in a deaf household.
When people pass Eberts on campus, he knows, they would never guess he can sign, or that he has a book in the works, or that he's determined to get an advanced degree.
But if his life has taught him anything, it's that stereotypes — and odds — don't mean a thing.
As he puts it, in a way fitting of someone so proud to be an Eagle: "The sky is the limit for me."