Professor's Presentation on Human Goodness Finds New Audiences in Brevard County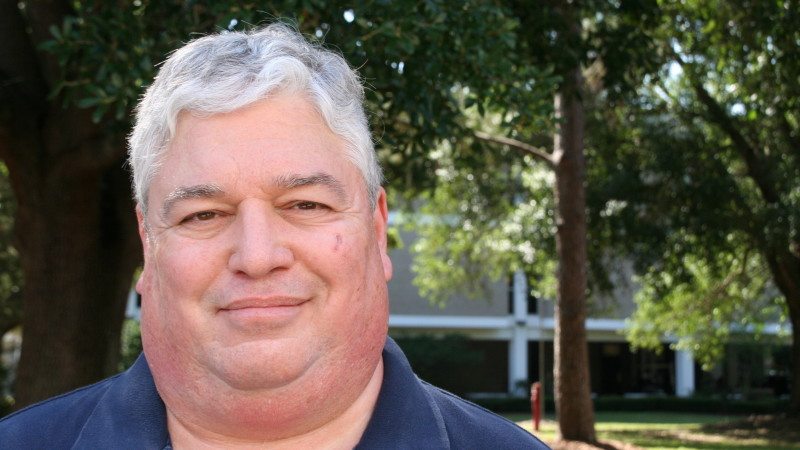 Polk State English Professor Howard Kerner recently took his lecture on human goodness during the Holocaust to Brevard County, where he left more than 100 middle-school students inspired to show kindness and compassion to others.
Since 2009, Kerner has taught Literature of the Holocaust at Polk State, in which he teaches about a number of "rescuers" — those who risked their lives and families to save tens of thousands of Jews but who are all but forgotten in history.
The class has morphed into a presentation he is often asked to give at area schools, churches and other organizations, such as Lake Region High School, St. Joseph Catholic Church and Winter Haven Rotary.
His speaking engagements consistently draw larger-than-expected audiences and evoke powerful emotions in attendees.
Now, the popularity of his lectures has crossed county lines.
In mid-April, he spoke to 160 sixth-, seventh-, and eighth-graders at Ascension Catholic School in Melbourne. As he typically does, Kerner used video clips to help his audience make a visual connection to the rescuers in his discussion, and as he typically does with children, he ended his talk by advising them on how they should answer when someone asks, "What do you want to be when you grow up?"
"I tell them they should say they want to be a good person," Kerner said. "You can say you want to be a teacher or a firefighter or whatever else, but that requires someone to hire you — it's not totally in your control. The one thing you can control is how you treat other human beings."
As has come to be the norm, his presentation and closing remarks resonated with the Melbourne children.
"They were really mesmerized and engaged. They had heard of Anne Frank, but they hadn't heard of most of the other people Howard discussed," said Anita Brady, assistant principal at Ascension.
Brady said many of the students wrote reflections after Kerner's talk, including a 16-year-old girl who said she learned that anyone — even children — has the power to make a positive change in the world.
"You don't have to be the president of the United States to have an effect," Brady said of what the girl wrote.
The talk at Ascension Catholic School followed a presentation earlier this year at Holy Name of Jesus Catholic School in Indialantic, where Kerner spoke to approximately 70 sixth-, seventh- and eighth-graders. At Holy Name of Jesus, Kerner's talk was used in relation to a broader lesson on bullying.
"I think Howard's message will last for decades. You don't have to be a special hero; the rescuers he discusses were regular people," said English teacher Kitty Nash.
Kerner's presentations at the Ascension and Holy Name of Jesus schools came after he spoke to more than 300 attendees — six times the number that was expected — at Ascension Catholic Church in January.
Kerner, who describes his Literature of the Holocaust course as a tribute to the altruism so many have shown him in his own life, said he is honored by every opportunity he has to speak about the power of human goodness.
"I would never have imagined that I would have this course," said Kerner, who credits Polk State President Eileen Holden and Vice President for Academic and Student Services Ken Ross for encouraging him to create the course.
"But then to have the class lead to a presentation for civic and religious groups and schools, and to watch the momentum build, no words can describe the pride and joy I feel."