Professor and Newspaper Columnist Leads Polk State Lakeland Collegiate High Students in Discussion on Civics, Civility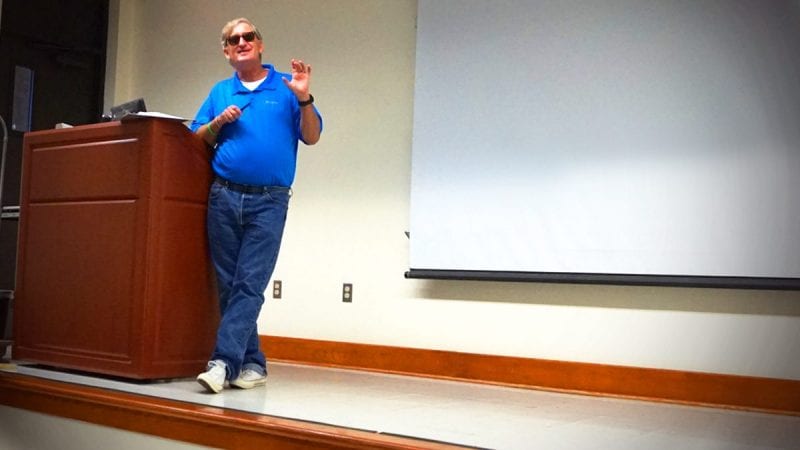 Polk State Lakeland Collegiate High School students spent Tuesday afternoon discussing civics, and especially relevant in an election year, civility, during an event featuring Florida Southern College professor and newspaper columnist R. Bruce Anderson.
Principal Rick Jeffries invited Anderson to the school after reading a recent column about politics and civility that Anderson wrote for The Ledger.
"I thought, 'That's a great lesson for our students,'" Jeffries said to the assembled students. "There's this split, this divide of feelings, that creates a lot of angst around election time. I'm hoping that you will become leaders in the future. Because you are unique and you're going to become leaders, I want you to be responsible citizens who know how to talk civilly about the things that right now people are yelling and screaming about."
For more than an hour, Anderson, an associate professor of political science, along with Kelly McHugh, an assistant professor of political science at FSC, as well as the leaders of FSC's student Democrat and Republican organizations, discussed the need for civics education, the presidential election, and the importance of tolerance even in the face of divisive political rhetoric.
Anderson lamented the general lack of knowledge among American citizens regarding the role of their government.
"Ignorance of how your society is structured and governed is really, really dangerous," he said. "It leads you to expect things from your government that government isn't designed to do or can't do."
Even as Americans' understanding of government has declined, Anderson said, their involvement in the political process has increased.
"More people are voting than ever before, they just don't know what they're voting for," Anderson said. "In the old days, the top of ballots would be filled, but quite often, the down ballots wouldn't be filled. We didn't know enough about the people at the bottom of the ballot to make a judgment so we only made judgments about the ones we did know about."
Today, voters still don't know about every race on the ballot, but they vote anyway, based on the political party of the candidate.
"Party informs the ballot. If you're a Republican, you fill in all the Rs. If you're a Democrat, you fill in all the Ds. You assume there is some connection between these people and your preference, even though there is no evidence that is true — that a Republican or Democratic judge rules any differently except at the very highest level, for instance," he said.
The lines Americans draw among themselves too often run far deeper than politics, Anderson said, and can even end friendships.
"That kind of animosity is not citizenship. It has a lot more to do with the NFL than it has to do with American politics," he said. "American politics is amazingly complex and can't be boiled down to two positions, even if we know what those positions are."
Anderson said becoming better informed as a society, rather than relying on sound bites, is central to civic engagement.
Divided as America can seem during an election year, McHugh said, this country's political process is still the envy of the world.
"If you compare American politics to the politics in other countries, we don't have that much to worry about," she said. "We settle our differences in the political system. As nasty as our campaigns get, at the end of the day, what we have is a peaceful transfer of power."
In other countries, where differences can't be settled within the system, citizens often turn to violence or protest, as was seen with the Arab Spring, a wave of uprisings that occurred in the Middle East a few years ago.
"I have heard a lot of cynicism about the election, and a lot of people say they're not voting either because they don't like the candidates or they think it won't matter," she said. "People in other parts of the world would kill for the right to vote for candidates they don't like. Part of civic engagement is recognizing that we have a lot of privileges in this country."
After a question-and-answer session in which students asked about everything from election rigging to the Electoral College to the role of lobbyists, it seemed Jeffries' intent for the discussion had been achieved, as students used words such as "inspiring" to describe the event.
Polk State College operates three public charter high schools, including Polk State Chain of Lakes Collegiate in Winter Haven, Polk State Lakeland Gateway to College Collegiate, and Polk State Lakeland Collegiate. All three high schools allow students to fulfill requirements for their diplomas while also earning college credits.