Professor nationally recognized for excellence in teaching says she learns so much from her students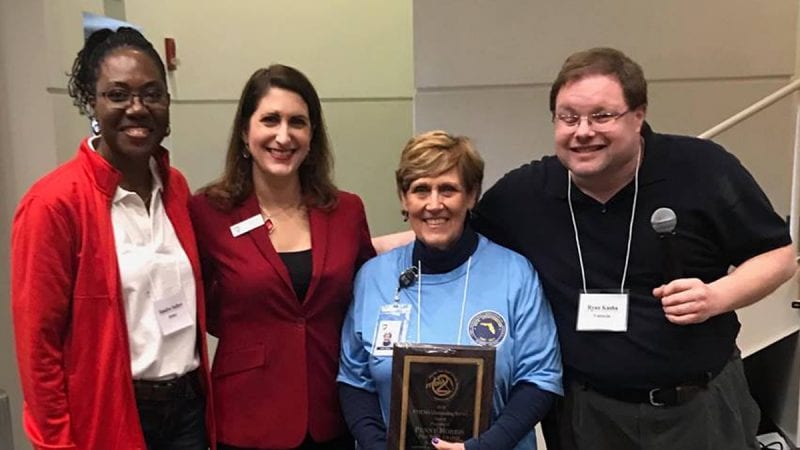 When Penny Morris isn't busy getting Polk State College students and faculty across the country excited about mathematics, she's trying to figure out where to keep all the awards she has accumulated for her dedication to the discipline and for her ability to pass the passion for math onto others.
Between teaching a full course load and volunteering hundreds of hours in numerous mathematics organizations, a few recent awards haven't found permanent places in her Lakeland Campus office just yet, but she is honored, nonetheless.
"I want to thank Polk State College for supporting faculty in their professional development endeavors, and I really want to thank our students," Morris said. "I learn so much from my students and they are the reason I continue to do what I do."
In February, Morris received the Excellence in Teaching Award from the Mathematical Association of America (MAA) and the Outstanding Service Award from the Florida Two-Year College Mathematics Association (FTYCMA) – two organizations she has been actively involved in for more than 20 years. The American Mathematical Association of Two-Year Colleges (AMATYC) also recently recognized Morris with an award for her outstanding contributions and dedicated service to two-year college math education.
"Professor Morris's steadfast dedication to Polk State College, our students, and her continued development as an exceptional faculty member is remarkable and I am extraordinarily proud of her accomplishments," Polk State President Angela Garcia Falconetti said. "Professor Morris is a shining example of Polk State's accomplished faculty and her recognitions are well earned."
Morris currently serves as president of the MAA's Florida section and she formerly served as president of FTYCMA. She also serves as AMATYC's local events coordinator and spearheaded the national organization's 2018 conference at Disney's Coronado Springs Resort. This year, she coordinated the MAA/FTYCMA conference to bring hundreds of mathematics professors together at the Polk State Lakeland Campus to share research, teaching strategies, and best practices.
"I learn so much from my students and they are the reason I continue to do what I do."

— Professor of Mathematics Penny Morris
"What is so important is that we keep abreast of everything going on in mathematics because everything is always changing," Morris said. "These organizations and the support we receive from the College to be active participants in professional development opportunities allow us to stay at the forefront of mathematics and teaching."
As students, classrooms, and the world change, professional development opportunities through organizations including the MAA, AMATYC, and FTYCMA allow educators to make changes themselves, Morris added.
"I'm not the only one," she said. "There are great faculty in our school, state, and beyond doing great things in mathematics and teaching. It is our ability to share those ideas and network without borders that allows us to be the best we can be for our students."
And for Morris, students play a big role in her continued development as a professor.
Morris always enjoyed math, but it was a struggle for her in school.
"I was only able to master the subject by viewing it as a mystery that needed to be solved," she explained. "That's how I present it to my students."
She didn't pursue her higher education until she was 30 years old when she enrolled at Northwest Florida State College on a music scholarship. She started in intermediate math.
"But I quickly realized music was just a hobby for me, and I thought 'what am I going to do?'" Morris recalled. "There was a critical shortage of math teachers and financial assistance was available for those who pursued the profession at the time, so I went in that direction."
Morris went on to achieve bachelor's and master's degrees in teaching from the University of West Florida.
"The thing is, I always saw the math in music," she added. "Math is in everything – that's what I teach my students and that's what they teach me."
She gave a recent example she called "Sean's method."
"Professor Morris is a shining example of Polk State's accomplished faculty and her recognitions are well earned."

— Polk State President Angela Garcia Falconetti
"One of my dual-enrolled high school students had a different approach to solving a problem," Morris said. "I explained to the class that it's not wrong, it's just different. It allows students to take charge of their own learning."
She also fosters leadership in students as advisor of Polk State's Phi Theta Kappa Honor Society Beta Upsilon Upsilon chapter, which ranks No. 7 out of 86 in Florida and holds Five-Star Chapter status.
"Showing students that math is in everything and there are different ways to approach it allows them to see the big picture. That's our goal as mathematics instructors," Morris said. "Math is always changing but it will go on, and we are invested in who is going to carry our discipline into the future."