President Eileen Holden Keynotes Transit Forum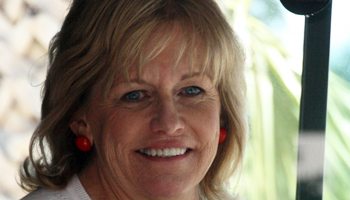 Polk State College President Eileen Holden was the keynote speaker at today's Polk Transit Authority Transit Needs Forum at Nora Mayo Hall in Winter Haven.
As it updates its five-year plan, the Polk Transit Authority has staged a series of "listening sessions" throughout the county over the past several weeks, during which members of the public were invited to share their ideas about how to improve the county's mass transit system.
Today's forum is the culmination of those listening sessions and precedes a transit summit, during which a formal plan will be discussed, scheduled for June 13 at Polk State's Lakeland campus, 3433 Winter Lake Road.
Holden's speech at the Transit Needs Forum comes the day after the College announced an innovative partnership with the Polk Transit Authority that allows any College student or employee to ride for free on any bus route served by Lakeland Area Mass Transit or Winter Haven Area Transit.
The agreement is free of any restrictions, meaning students and employees may ride on any route at any time and for any purpose — all for free with a College-issued photo ID.
The agreement impacts more than 20,000 Polk County residents and, according to Citrus Connection Executive Director Tom Phillips, is the most important progress in public transit for Polk County in 30 years.
"What we are providing through a transportation-focused partnership is not 'just' transportation. It's access to opportunity. Access to a better life. And the capacity to change their lives without leaving their hometowns," Holden told the Forum attendees.
Holden thanked members of the Polk Transit Authority for their work to make the agreement possible  and for their dedication to improving the county's mass transit system. She also shared her insight into the future of mass transit in Polk.
A top priority for the Authority — just like at the College — is to get the buy-in of the public, specifically those who are not aware of the benefits they reap from the College and mass transit system.
"Everyone is a stakeholder — but not everyone realizes that he or she is a stakeholder," Holden said.
"Everything we do at Polk State, in terms of our strategic communications and public relations, is oriented around expanding and deepening that pool of stakeholders. It's all about taking people who didn't think they had a stake in what we do and helping them understand that their future and ours are linked."
Holden urged the Polk Transit Authority to continue holding meetings in the future, even after the five-year plan is finalized, to increase awareness of mass transit in Polk County.
"We have to think about how we can make others understand their status as stakeholders in what we do…Whether we're talking about road-widening or shoulder-improving or highway-connecting or commuter-rail building, our challenge must remain this: How do we expand and deepen the pool of those who think that particular project matters to them?"