President Honored for Commitment to Education, Community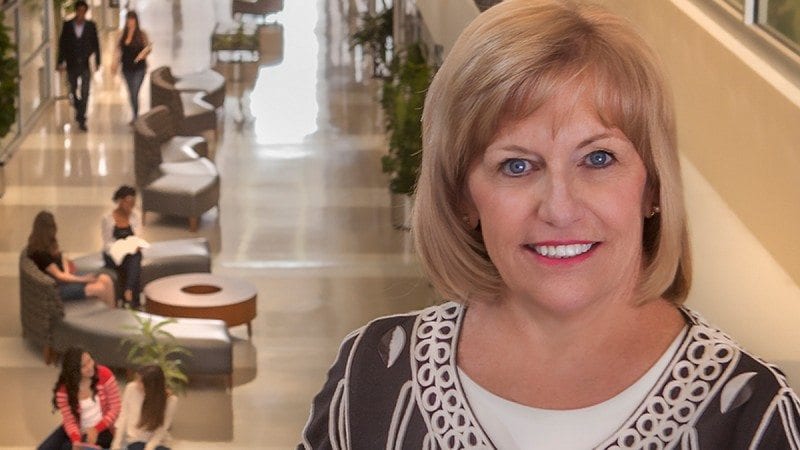 Polk State President Eileen Holden has received the Women of Distinction award from the Lakeland Metro Chapter of the National Association of Women Business Owners, a recognition of her tireless, decades-long commitment to higher education and her community.
Holden received the honor at an April 5 NAWBO event at the Lakeland Yacht & Country Club.
"Dr. Holden was deserving of the Women of Distinction award because she goes above and beyond her call of duty as Polk State's president. She's not just building Polk State College in a positive way, she's also uniting and building Polk County through all of her volunteer participation," said Cindy Hartley Ross, a presenter at the NAWBO event, past member of the College's District Board of Trustees, and current member of its Alumni Association Board of Directors.
Holden was inaugurated as Polk State's fourth president in 2007, bringing to Polk County her more than two decades of community college experience. She previously worked as vice president for academic affairs at Broward College and as dean for academic affairs at Palm Beach State College.
She holds a bachelor's and master's in Education and a doctorate in Higher Education Administration.
Since becoming president, Holden has guided Polk State through a period of unprecedented growth.
She oversaw the creation of the College's first bachelor's degree program — the Bachelor of Applied Science in Supervision in Management. Since it launched in Jan. 2010, nearly 500 have enrolled in the BAS program, proving there was an unfilled need for convenient, affordable, workforce-targeted bachelor's degrees in Polk County.
Holden also guided the College through the 2011 launch of its second degree program —the Bachelor of Science in Nursing. Like the BAS, enrollment has far surpassed the College's expectations.
During the deep recession — and sluggish recovery — of recent years, the residents of Polk County have come to rely on Polk State like never before, seeking degrees and training that will help them compete in an increasingly competitive labor market. Under Holden's direction, Polk State has responded to the growing demand — in the form of expanded class offerings and strategic hires — all while constrained by its own tightened budget.
In addition to her work at Polk, Holden is also an advocate for higher education on a statewide level, serving as past chairwoman for the Florida College System Council of Presidents and past president of the Florida College System Activities Association.
Though higher education is the cause dearest to her heart, Holden's community engagement has been extensive and diverse.
She serves on the boards of Greater Winter Haven Chamber of Commerce; Volunteers in Service to the Elderly (VISTE); Polk Vision; Winter Haven Economic Development Council; United Way of Central Florida; Central Florida Development Council; Winter Haven Women's Resource Center; Polk Works; Haines City Economic Development Council; Heart of Florida Regional Medical Center; Florida's High Tech Corridor Council; and Winter Haven Hospital. She also previously served on the board of the Lakeland Area Chamber of Commerce.