Polk's Public Safety Academy Built On Collaboration with Area Agencies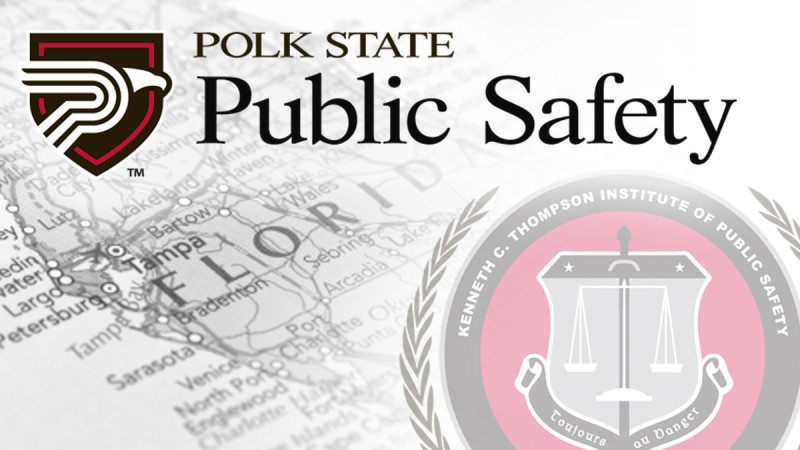 Polk State College has long been defined by its collaboration with area employers, and nowhere is that more evident than in its public safety academy, where daily interaction with local law enforcement agencies determines virtually every detail of the program.
"As stewards of public funds, we want to do what's right and make sure we are spending that money responsibly by providing the training that our agencies need," said Polk County Sheriff's Office Capt. Bill Mann, who directs the College's Kenneth C. Thompson Institute of Public Safety.
Each year, Polk State's public safety academy trains approximately 120 new recruits and about 500 working law enforcement officers, providing the latter group with a range of advanced and specialized courses, from Interviews and Interrogations to Response to Active Shooters.
Based at Polk State Winter Haven, the academy primarily serves agencies in Polk County but is also recognized as an international leader in law enforcement training.
Since 2007, it has carried internationally recognized accreditation from CALEA (the Commission on Accreditation for Law Enforcement Agencies Inc.), a distinction earned by abiding to rigorous standards for everything from recruiting to testing students. Earlier this year, it became the first academy of its kind to receive CALEA's Accreditation with Excellence, an award given to agencies that set a benchmark for public safety professionalism.
As part of its CALEA accreditation, Mann said, the academy is required to gather assessments on its performance from its client agencies. However, the Polk academy far exceeds those requirements, involving agencies every day to make sure the training it delivers meets their needs.
The academy does this through a number of formal and informal means.
Formally, representatives from the academy meet on a near-monthly basis with a trio of law enforcement committees, including:
The Criminal Justice Standards and Training Commission (CJSTC) Region VIII Training Advisory Council; Region VIII includes all law enforcement agencies in Desoto, Hardee, Highlands and Polk counties. These meetings take place twice a year.
The Polk County Police Chiefs' Association's Training Advisory Council, which meets quarterly and serves all Polk County law enforcement agencies.
Polk County's Training Advisory Group, which twice a year convenes officers who head the training efforts at their respective agencies.
"All three of these meetings are based on the same premise — telling the agencies we serve about what courses we've offered, what we plan on offering, and finding out from them what they need from us," Mann said.
The feedback the academy garners from those meetings has a very real impact on the training it delivers.
A prime example is the development of a new advanced course to help officers in responding to veterans.
In late 2012, the Haines City Police Department, represented by Capt. Brian McNulty, expressed the need for such a course during a meeting of the Training Advisory Group.
"There had been several articles in police magazines relating to veterans returning to the states and having difficulty adjusting to civilian life," wrote Haines City Police Lt. Jay Hopwood in an email to Polk State.
"The difficulties included coping with everyday stress, suicidal tendencies and trouble in the workplace. Our agency has had only one call of this nature, but we wanted to have training in advance before we started to answer these types of calls."
Within three months of receiving McNulty's request, the Polk academy had added a Responding to Veterans class to its lineup.
"(The academy) responded quickly to get the class started," Hopwood said. "The supervisors there are always willing to provide new training for our officers … They were able to put a curriculum together quickly and set up the training class."
The academy also regularly surveys its client agencies about their needs, using the results to build its training schedules.
As far as informal means of interacting with area agencies, this is best observed by merely spending a few minutes in the academy's offices. The phones, one will notice, ring — and the email inboxes ping — constantly, and more often than not the caller on the other end of the line is from an agency with a training need.
The academy, Mann said, is always ready to listen and respond.
A recent example is the addition of an advanced course in Line Supervision. The course, a requirement for officers seeking promotion, was not on the academy's prior schedule.
When the phone started ringing, however, the academy adjusted its fall lineup, adding the course that begins Oct. 7. Taking agency input to an even more acute level, the academy will offer the course in the evenings for six weeks — as opposed to during the day for two weeks — because that option better suited the work schedules of those who signed up for the course.
While the curriculum used in the Basic Corrections and Basic Law Enforcement academies is dictated by the CJSTC, customer demand is a driving force in this side of the academy, too.
Agencies' needs determine when basic academy classes are offered — and at what time — and also influence the instruction recruits receive.
For instance, at the suggestion of the PCSO, the academy last fall began teaching new recruits Spanish phrases that they're likely to use in their patrols and interactions with the public. The academy instituted the Spanish training about a week after the PCSO requested it.
"Recognizing we are sending law enforcement officers into environments where there are English language barriers, we recognized the need to provide real-world training to improve officer and citizen safety," said Polk County Sheriff Grady Judd.
"The academy's response to this need was swift and comprehensive — they immediately implemented training into the curriculum that added valuable Spanish phrases."
Judd added that such quick response to agencies' needs has become a hallmark of the academy.
"The academy has enjoyed an excellent relationship with area law enforcement and detention agencies. It has developed a culture of innovation and collaboration that guarantees that agency feedback is welcomed and actively solicited. Their education and training mission is not static — they are constantly seeking ways and means to prepare candidates that meet and exceed our requirements and expectations."
The academy also earlier this year made a significant change in its basic training, adding a two-day intensive report-writing class.
Agencies have long lamented the writing skills of their officers, Mann said. In response to this need, the academy had added a research paper component to its curriculum. However, while students gained research skills, their writing still needed improvement.
Thus, new recruit classes now complete two days of what equates to "English 101" during their three-day orientation to the training academy, Mann said.
"We did this directly because of feedback from the agencies," Mann said.
The change has only affected one recruiting class so far, but anecdotally, Academy Coordinator Angela Sockwell said she's noticed improvement in writing skills.
Its attention and responsiveness to the agencies it serves contributes to overwhelmingly positive feedback the academy regularly receives through surveys of those agencies.
In its application for the CALEA Accreditation with Excellence Award, the academy included a three-year summary of surveys distributed to the Region VIII Training Council. It showed that more than 96 percent of responses during that time were positive; another 2 percent were non-applicable.
The results were similar on a 2011 Florida Department of Law Enforcement Customer Satisfaction Survey, conducted as part of the academy's state reaccreditation process. On that survey, more than 98 percent of responses were favorable.
Perhaps more important than all the survey results and commendations the academy receives, however, is how the quality of its training impacts the citizens of Polk County, said Winter Haven Police Department Capt. Charlie Bird.
The very structure of the academy — where personnel represent agencies including the PCSO, WHPD and the Lakeland Police Department — is both a reflection and extension of the cooperation that exists among the county's law enforcement agencies, Bird said.
"Polk County is really one of the best counties for partnership and teamwork among its law enforcement agencies anywhere in the country," Bird said, pointing to the academy as a key element in that.
"As far as what that means to the public, they are getting a well trained officer or deputy who is not only well trained, but consistently trained. The fact that our officers and deputies train together means they're better able to work together in the field, and the people are safer."
In addition to training provided through the Kenneth C. Thompson Institute of Public Safety, Polk State Public Safety offers associate's and bachelor's degrees in Criminal Justice, as well training and degrees in Emergency Medical Services and Fire Science.