Polk's Mock Courtroom Exercise Readies Students for Future Testimony; Hailed by State Attorney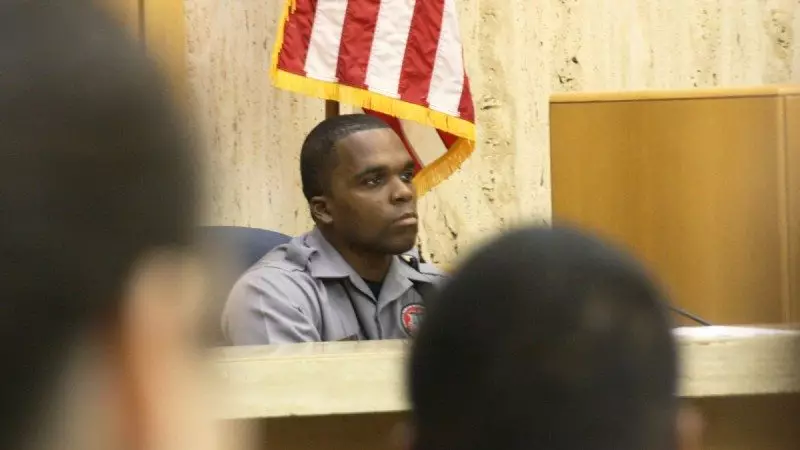 Chris Dudley had never been in a courtroom before last Tuesday night, when he entered the Polk County Courthouse, took the stand, and was cross-examined on an arrest report he'd written as part of his training at Polk State's public safety academy.
For 10 minutes, a team of lawyers grilled him on everything from inaccuracies in the report to his facial expressions while testifying – his nervous smiles came across as insincere. It was an experience that was unnerving and intimidating, but also one that he will never forget as he begins his career as a police officer.
"It will be helpful to all of us down the road," said Dudley, 36, who spent eight years in the Army and owned a retail store before deciding to pursue his interest in law enforcement.
"I know I'll be more thorough in my report writing and will be better prepared when I have to go to court the next time."
Having students recognize the importance of accurate report writing and effective courtroom testimony is precisely the point of Polk State's mock courtroom exercise, which has been commended by State Attorney Jerry Hill.
Added to the curriculum three years ago, the mock courtroom experience is not state-mandated, but every second of it is beneficial, said Capt. Bill Mann, director of Polk State's Kenneth C. Thompson Institute of Public Safety.
"When I went through my first courtroom experience, it was real," said Mann, who works for the Polk County Sheriff's Office. "No one likes being criticized or questioned. Those are uncomfortable things. But it's better to go through that in the academy, and get that experience, than to go through it for the first time when there is a real case, a real crime and a real victim."
Every few months, law enforcement recruits take part in the four-hour mock courtroom exercise. Though it's pretend, it is meant to give students as close to a real-life experience as possible.
First, there's the location, Mann said. There's nothing like the solemnity of an actual courtroom to get students to take the exercise seriously. Then there are the lawyers themselves. Forget make-believe, for the mock courtroom exercise, the College brings in the tough legal guns. Working on Tuesday were Sharon Franklin, felony director for the State Attorney's Office; defense lawyer Tony Dodds; and Polk State adjunct professors Chasity Branham and Ali Chastain, both former prosecutors for the State Attorney's Office.
The mock courtroom exercise also integrates students from the College's Criminal Justice associate's and bachelor's degree programs, who serve as jurors and observe the proceedings.
During the night, the law enforcement recruits are held accountable for every detail of their fictitious reports. On Tuesday, the lawyers picked apart the timelines of the crimes and the resulting investigations. They questioned students on holes in the descriptions of suspects. In some cases, their questions led to students admitting they had done insufficient work to charge the defendant with a crime.
The lawyers held nothing back, and student after student squirmed on the stand.
"Being up there is extremely nerve-wracking," Branham said. "Every word they say is put under a microscope. In real life, the mistakes they make here tonight could result in a mistrial or a not-guilty verdict for someone who is guilty, or officers being charged criminally. They can make those mistakes here and let us help them correct them."
In addition to their personalized reviews, the attorneys offered their overall advice to new law enforcement officers. Dodds advised them to always tell the truth, never to fabricate anything just to make a case better. Chastain emphasized the importance of going to court prepared and maintaining composure on the stand. Franklin encouraged the new recruits to work with the State Attorney's Office to make sure they're ready to testify.
"We're on the same side," she said.
The exercise caught the attention of Franklin's boss, State Attorney Jerry Hill, who praised the added layer of preparation Polk State provides its law enforcement recruits and criminal justice students.
"This is invaluable training for those who are training to become law enforcement officers," Hill said. "The ability for law enforcement officers to come into the courtroom and be comfortable with the proceedings and able to testify is very important to the criminal justice system as a whole.
"Integrating criminal justice students, who may plan on becoming attorneys, probation officers, or playing any number of other roles in the criminal justice system allows them to see firsthand the courtroom experiences they may have in their future careers."
In addition to training provided through the Polk State Kenneth C. Thompson Institute of Public Safety, Polk State Public Safety offers associates and bachelor's degrees in Criminal Justice, as well as training and degrees in Emergency Medical Services and Fire Science.