Polk State's Voices of the People Series Continues Oct. 30 and Nov. 1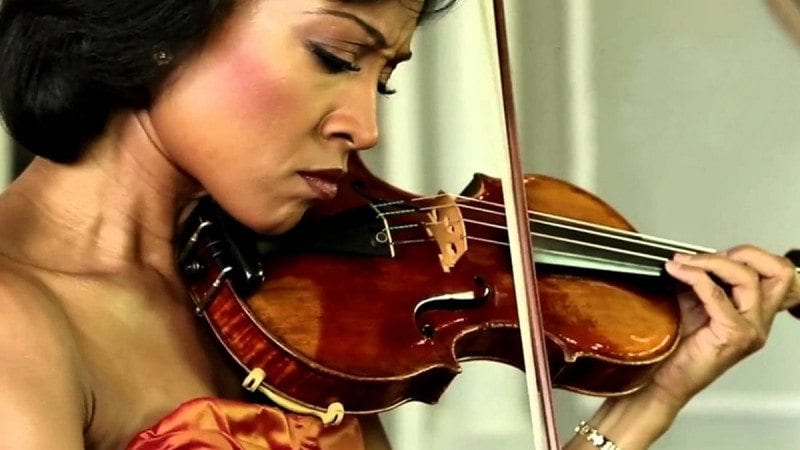 Polk State College's Voices of the People concert series continues with a pair of events that will raise money for the United Way.
Violinist Kelly Hall-Tompkins and pianist Craig Ketter will lend their talents to the events, bringing the music of Strauss, Bieber, and Ysaÿe to audiences in Lake Wales and Winter Haven.
Hall-Tompkins is based in New York and has been playing the violin since she was 9. She holds a master's degree from the Manhattan School of Music and a bachelor's degree from the Eastman School of Music. She is a winner of a Naumburg International Violin Competition Honorarium Prize, as well as a Concert Artists Guild Career Grant. She has performed more than 150 times with the New York Philharmonic, and has appeared as a soloist with orchestras such as the Dallas Symphony, Jacksonville Symphony, Tulsa Philharmonic, Chamber Orchestra of New York, and Philharmonic of Uruguay. She is also the founder of the nonprofit Music Kitchen-Food for the Soul, which brings chamber music performances to homeless shelters in New York.
Ketter is also based in New York and also began his music studies early, taking up the piano when he was just 7. Ketter also studied at the Eastman School of Music for his bachelor's and master's degrees, before continuing his studies at the Juilliard School. He has received rave reviews for performances with the Sacramento Philharmonic Orchestra, Mobile Symphony, Raleigh Symphony, Grant Park Symphony Orchestra and Oakland East Bay Symphony. His accolades include first prize in the Bartok-Kabalevsky-Prokofiev International Piano Competition and the Saunderson Award at the Coleman Chamber Music Competition in Los Angeles.
Hall-Tompkins and Ketter perform as two members of the Aurelia Trio.
In events co-sponsored by the Polk State Office of Equity & Diversity, Polk State Philosophy Club, Polk State Lake Wales Arts Center and Student Activities and Leadership Office (SALO), Hall-Tompkins and Ketter will perform at the following dates, times and locations:
Polk State Lake Wales Arts Center
1099 State Road 60 East
Oct. 30
7 p.m.
Free
Polk State Winter Haven Fine Arts Theatre
999 Ave. H N. E.
Nov. 1
7 p.m.
This event is offered as part of the College's International Education Week activities and Global Initiatives Program.
Free for Polk State students with ID, all others $5.
All proceeds raised will be donated to the United Way. The College is an ongoing supporter of the United Way, hosting several annual events that raise funds for the cause.
For more information, call the Polk State Lake Wales Arts Center at 863.298.6883 or email LWAC@polk.edu.