Polk State's TRiO Hosts Annual Back to School Jam at Moose Lodge 1023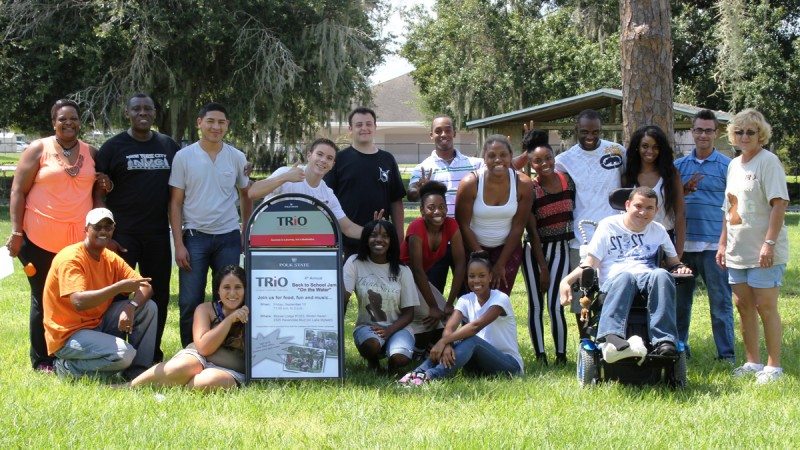 Polk State's TRiO-Student Support Services program recently hosted its fourth-annual Back to School Jam at Winter Haven's Moose Lodge 1023, giving students the opportunity to make crucial social connections early in the fall semester.
TRiO is federally funded and provides support to students who face specific obstacles in their pursuit of education, from financial struggles, to disabilities, to being the first in their families to attend college. TRiO encompasses three programs: Educational Talent Search, which targets middle and high school students; Upward Bound, which targets high school students; and Student Support Services, which targets college students.
At Polk State, TRiO-Student Support Servies provides students with personalized academic assistance, preparation for transfer to a four-year institution, a designated study space, and in recent years, the annual Back to School Jam.
"Building a social network is really pivotal to student success," said Linda Sherwood, TRiO transition specialist.
"The Back to School Jam is a chance for TRiO students to get to know one another. They have familiar faces on campus, people they can study with and get notes from if they have to miss a class, people they can turn to for all kinds of help. Their peers lend a level of support that can make a huge difference during their college careers."
Polk State TRiO-Student Support Services has for the last two years hosted its Back to School Jam at the Winter Haven Moose Lodge 1023, allowing students to enjoy the organization's pavilion on Lake Idylwild.
Moose Lodge 1023 Governor Ron Sofield said opening the doors to the students is an honor.
"These are students who are striving to learn so they can be productive members of society," Sofield said. "We want to see these kids succeed and we'll do anything we can to help them."
During the daylong Back to School Jam on Sept. 13, more than a dozen TRiO-Student Support Services students enjoyed a free meal, played games and participated in karaoke.
Students said they appreciated the Back to School Jam and the Moose's generosity in offering its venue.
"It's motivational," said Alex Uribe, 20, a resident of Winter Haven. "We get the chance to interact with each other. We get a break from our studies and a chance to just get to know one another."
Added Diego Rascon, 21, a resident of Lakeland:
"I'm really grateful for everything TRiO does for us. They pay a lot of individual attention and they give us support, and today TRiO and the Moose have given us the chance to network and have fun. We're all really grateful for that."
The Loyal Order of the Moose is a fraternal and service organization that was founded in 1888 with nearly 1,800 Lodges in all 50 states, Canada, Great Britain and Bermuda.
Polk State's TRiO-Student Support Services serves more than 150 students college-wide.