Polk State students learn about opportunities at Duke Energy Academy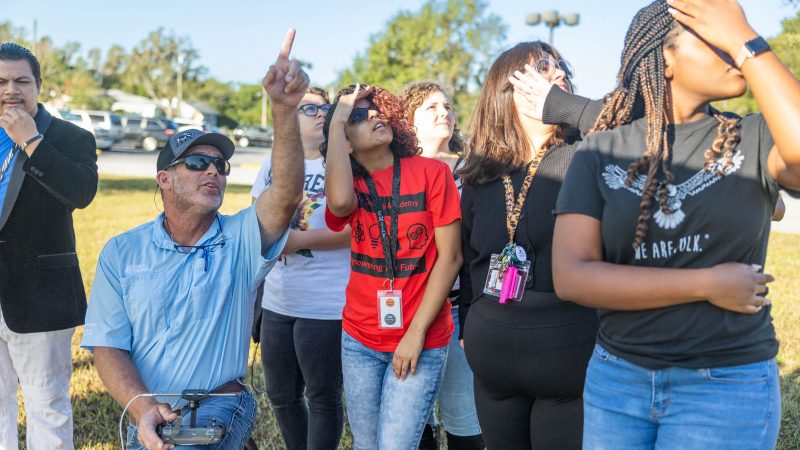 As Polk State College President Angela Garcia Falconetti put it in her opening remarks, the Nov. 4 Duke Energy Academy was intended to provide a spark.
Representatives for Duke Energy spent the day at the Winter Haven Campus, offering hands-on learning and giving Polk State students insight into the different opportunities available at the energy company.
"We really hope to spark an interest in you – pun intended," Falconetti said. "You don't have to be an electrician to be part of Duke Energy. You can be vice president of operations or an accountant. There are so many professions available at this one business."
The annual event is part of Polk State's TRiO Student Support Services Program's ongoing partnership with Duke Energy. This is the fifth year that the event has been held. Duke Energy hosted the first but the last four have been at the College.
"I've talked to many students who appreciate this information," said Joyce Bentley, Program Director for TRiO. "Polk State Chain of Lakes Collegiate High School student Shay Powell received a scholarship from the American Association of Blacks in Energy (AABE) through her Duke experience. She matriculated at the University of Central Florida. Duke Energy and the AABE members enjoyed being able to present to our current college students."
TRiO gives underrepresented students the resources necessary to develop their academic and self-management skills, and to succeed at Polk State and beyond. Sophia Hilaire, a fourth-year Polk State student who works on campus, was happy to be able to attend.
"Ms. Bentley made it possible for me to attend," she said. "I thought this would be all about energy, but it's really interesting to see the different career paths."
Melvin Philpot and Laquitta Ghent, both representing Duke Energy, spoke about the opportunities the company has provided them. Philpot, Duke's Senior Program Manager, has worked in the industry for 40 years.
"This (event) affords us the opportunity to share with you what was shared with us many years ago," he said.
Ghent, the company's Vice President of Operations, is a product of Durant, Miss. where the poverty level is greater than 40%. She noted that nurses, engineers, and environmentalists were among the many careers offered at Duke Energy.
"There are so many avenues (with Duke) you can go into," she said. "When I was your age, I wanted to do more than work with my hands. I looked toward education. I was taking advantage of opportunities like this one and office sessions with my professors."
In addition to the hands-on experience, a handful of students won neat prizes. For being the first to sign up for the event, Kia Kellogg was given a $100 Amazon gift card. Joey Capre, a freshman and STEM major interested in computer engineering, was also given a gift card for being the first to arrive.
"I wanted to see what this was all about," he said.
Freshmen Bre Durr and Janteria Williams said they were encouraged to attend by Shagon Collins, Polk State Academic Advisor for TRiO.
"We need to get in the college spirit," Durr said.
The largest portion of the day had the students break out into smaller groups to learn about different career opportunities. Students learned about drones, solar power, and circuit building. One of the later sessions included the building of a solar car.
"There's so much from college you can take into what we do," said Mike Dodd, a lineman for Duke Energy. "College would have been a lot of help to me, especially with some of the math that's involved."
Dodd and John Thompson hosted the drone presentation. Dodd said he's enjoyed watching the way the company has changed over the years – from advancements in technology, changes in job duties, and more diversity in the workplace.
"For me, that's been really cool to see the way we have changed," he said. "Even the line crew has many different jobs – more than building and repairing lines. There are so many opportunities available – from accounting to office jobs to even buying land. It's a really neat place to work. You wouldn't believe all the things there are to do."
Thompson, a lineman and the drone operator, was required to earn a certification from the Federal Aviation Administration to perform his job. As a youngster, Thompson was a remote-control airplane enthusiast.
"I would have never guessed in my lifetime that we'd have something like this," he said. "Maybe NASA would have had one, but they'd have probably been $100,000. The fact we can get something like this from Amazon is amazing."
Dodd and Thompson noted the many ways they've used the drones over the years. Dodd estimated that it would take a crew of about 10 people to do what the drone can in a short period of time.
"Drones are a real good tool to inspect lines and poles," he explained. "Sometimes, birds build nests and lay eggs on our poles, and we see them with the drone and maybe that means we have to wait to change poles out. We've even seen eagles' nests before."
Victor Rodriguez, a sophomore theatre student, saw a lot of value in Friday's event. The drone, he said, was of particular interest.
"What stands out to me is that the drone has so many uses," Rodriguez said. "It's not just for surveillance. It's a form of preparation and assures everyone of what's in the way. I'm in film and interested in cinematography and I want to learn about as much technology as I possibly can to perfect my craft in theatre production."