Polk State's Third Annual United Way Soccer Match is Oct. 24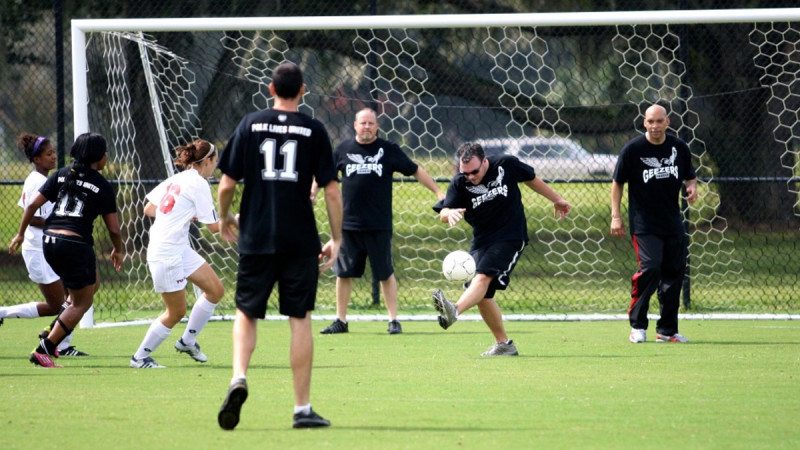 Polk State College's third annual soccer match to benefit the United Way is planned for Oct. 24 at the Lakeland campus soccer field.
The game pits Polk State Soccer players against members of the College's faculty and staff, for an afternoon of fun but also heightened awareness for United Way's mission.
United Way of Central Florida serves Polk, Hardee and Highlands counties. It is an umbrella organization for dozens of social services and related agencies. It also facilitates the Success by 6 early-education initiative, and is an information and referral service, connecting those in need appropriate resources.
Polk State President Eileen Holden is currently the United Way of Central Florida's campaign chair, but the College has long been a supporter of the organization.
According to United Way of Central Florida President Terry Worthington, the College ranks tenth out of approximately 60 public and private colleges and universities across the state in terms of per-capita giving to the organization.
"Polk State's soccer match is such an incredibly positive event, and just one example of its tremendous tradition of giving," he said.
The event begins at noon with a pep rally featuring Polk State Cheerleading. The soccer match kicks off at 12:30 p.m. There will also be a tailgate party and free lunch for attendees.
Polk State Soccer Coach Bill Read said his players look forward to putting their on-field skills to work for the United Way each year.
"United Way is a worthwhile organization that spreads its benefits over a wide area of needs. It is also very local, thus the money stays within our own community," said women's soccer coach Bill Read. "Plus, the students get to have some fun and hopefully have some bragging rights with their professors."
The event is free to attend, but donations to benefit the United Way are welcome.