Polk State's Shea Nationally Recognized for Improvements to Online Criminal Justice Courses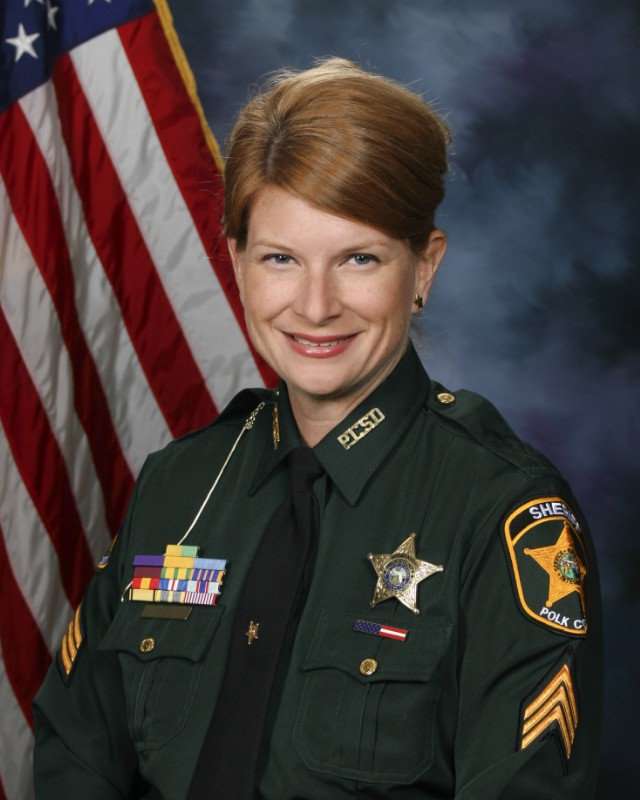 Polk State Criminal Justice Program Director Sgt. Christen Shea has received national recognition for her efforts to improve the online learning experience for students.
Shea, a sergeant with the Polk County Sheriff's Office, received the Quality Matters Outstanding Impact by an Individual award during a ceremony in November in San Antonio, Texas.
Shea said the greater reward, however, is knowing that she is helping Polk State's Criminal Justice students to reach their goals. Polk State offers two online degrees in Criminal Justice: the Associate in Science in Criminal Justice Technology and Bachelor of Science in Criminal Justice.
"This is all about retaining students and helping them be successful," Shea said. "Quality Matters is, ultimately, a way to help our students — so why wouldn't we?"
Quality Matters is a nonprofit that provides tools and training to assure the quality of online and hybrid courses at colleges, universities, K-12 schools, government agencies, corporations, and other education-related organizations. To receive the nationally recognized Quality Matters certification, courses must meet detailed standards and pass a series of reviews.
Shea has achieved Quality Matters certification for five upper-level criminal justice courses, including: Survey of the Criminal Justice System, Criminal and Delinquent Behavior, Ethical Dilemmas in Criminal Justice, Criminal Investigations, and Drugs and Crime.
Shea said all courses in the Bachelor of Science in Criminal Justice, which launched in 2012, have been designed according to Quality Matters' standards, and she will be submitting more courses for certification in the next few months. She is working toward having all of the Associate in Science in Criminal Justice Technology and Bachelor of Science in Criminal Justice courses Quality Matters-certified.
"One of the things that Quality Matters emphasizes is consistency throughout the courses. That way, students know exactly where to find the syllabi, due dates for their assignments, links for information on the College, information about online tutoring and advising, and so on," Shea said.
"They come in knowing how to navigate the online course, because it looks just like the online course they took last semester. They can immediately start learning about the subject because they don't have to learn how the online course is set up."
The consistency and ease of navigation Shea has achieved in her courses through the Quality Matters certification process has resulted in dramatically increased measures of student success. Prior to her courses receiving Quality Matters certification, only 62 percent of students passed the classes. However, after the courses received Quality Matters certification, the pass rate jumped to 89 percent.
The impact of the Quality Matters standards is reflected in students' course reviews, which include such comments as:
"This course is very well outlined and structured."
"There were helpful resources to use in research, and the class was easy to follow."
"The assignments are well coordinated in order to learn the material."
Shea's work toward attaining Quality Matters certification is part of a broader initiative at the College to ensure high-quality online education. The College offers Quality Matters-certified courses in college success, computer network engineering, computer systems, education, English, health and wellness, healthcare administration, mathematics, nursing and science.
In addition to online associate's and bachelor's degrees in Criminal Justice, Polk State Public Safety includes degrees and training in Emergency Medical Services and Fire Science Technology, and the CALEA with Excellence-accredited Polk State Kenneth C. Thompson Institute of Public Safety.