Polk State's Respiratory Care Program to Receive Special Recognition from Its Accrediting Body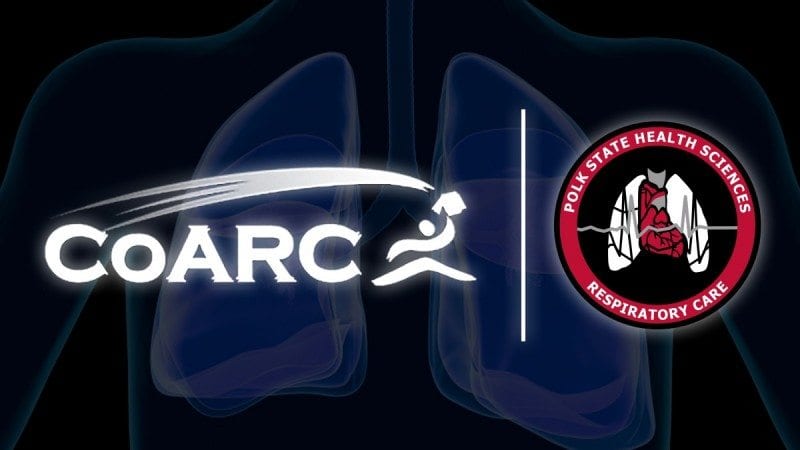 Polk State College's Respiratory Care Program will receive special recognition from its accrediting body next month for its success in preparing students for credentialing exams and the job market.
"This is a milestone for the program," said Program Director Kathee Ford. "This award recognizes the excellent work we are doing in preparing our students for long-term success in the field of respiratory care."
The program has been selected for the Commission on Accreditation for Respiratory Care's (CoARC) Distinguished RRT Credentialing Success Award.
According to CoARC's notification letter, recipients of the award were selected based on several criteria, including students' success on credentialing exams and in being hired after they graduate. CoARC examined data from 2012, 2013 and 2014 in determining the award winners.
Ford explained that in most states, including Florida, the credential needed for state licensure is the CRT (certified respiratory therapist). For a program to maintain accreditation from CoARC, at least 80 percent of its graduates must successfully pass the CRT exam from year to year.
Polk State has consistently exceeded that threshold, with 100 percent of graduates successfully passing the CRT exam since the program's first graduating class in 2008.
While the CRT is the requirement for state licensure, an increasing number of employers are requiring the RRT (Registered Respiratory Therapist), a more advanced credential.
"The RRT is granted after passing two national board examinations, the TMC (Therapist Multiple Choice Examination) and the CSE (Clinical Simulation Examination). On the CSE, test-takers are given various clinical scenarios and they are assessed on their abilities in gathering information and making decisions," Ford said.
"Employers want to know that whoever they are hiring to work in their facilities has obtained the highest-level credential."
In selecting recipients of its RRT Credentialing Success Award, CoARC looked for programs in which at least 90 percent of graduates had obtained the RRT in the years of 2012, 2013, and 2014.
Polk State more than cleared that hurdle.
"We have been at 96 percent on the RRT for the last three years," she said.
In addition to success on the CRT and RRT exams, CoARC also considered a program's attrition rate — or the number of students who do not complete the program.
"Our attrition rate for the past three years is 20 percent," Ford said. "To maintain accreditation, we have to have an attrition rate of less than 40 percent. There are students who, for a variety of reasons, don't complete the program, but we do everything in our power to help them, and that shows in the fact that our attrition rate is low."
The point of staying in school and passing the credentialing exams, of course, is to be hired, and once again, Polk State's Respiratory Care Program has long demonstrated remarkable success in graduate employment.
"Since 2008, when the program started, 100 percent of our students have been hired in the field," Ford said.
Ford said she thinks the nature of the Respiratory Care program has much to do with students' success both on the exams and in the job market.
"We emphasize clinical scenarios in the classroom and our students also must complete numerous clinical rotations," Ford said. "We prepare them for the clinical scenarios on the RRT, but also for the real-world demands of the job."
Ford added that the program's student-to-instructor ratio in clinical settings does not exceed six, but is on average four.
Additionally, programs selected for the Distinguished RRT Credentialing Success Award must have at least three or more years of outcome data and must hold accreditation without a progress report, which means no negative marks or areas in need of improvement.
CoARC notified the College of its selection for the award in April; the College will receive the award at a CoARC event next month in Phoenix. Clinical Education Coordinator for Respiratory Care Tanya Bird will represent the College at the event.
In addition to Respiratory Care, Polk State's Health Sciences Programs include Cardiovascular Technology, Diagnostic Medical Sonography, Emergency Medical Services, Nursing, Occupational Therapy Assistant, Physical Therapist Assistant and Radiography. Students in these programs regularly outperform their peers in the state and nation on required licensing exams.