Polk State's Pila to Perform During New York Event Marking 15th Anniversary of 9/11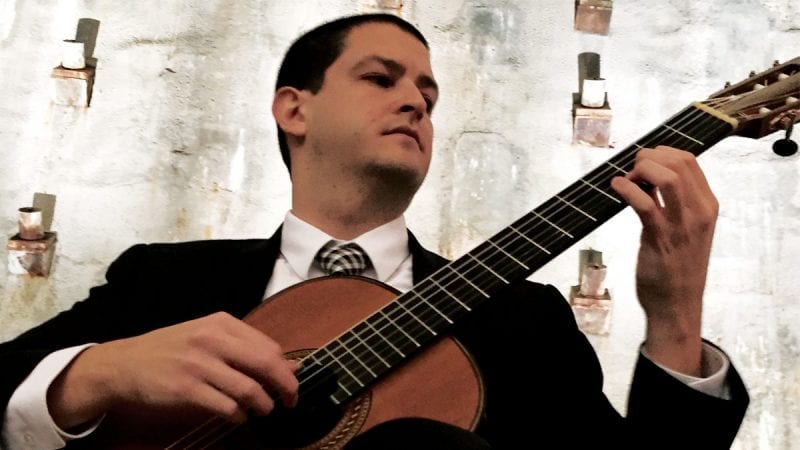 Polk State Music instructor and Juilliard-trained guitarist Ben Pila will perform at the National September 11 Memorial & Museum on the 15th anniversary of the terrorist attacks.
This will be the eighth time Pila has played at the event in New York.
"It's very humbling to play at such a meaningful event. I have the honor of playing music while the names of the victims are read aloud by family members and first responders," Pila said.
Pila's repertoire for the performance has yet to be finalized, but will likely include pieces from his debut CD, "Commemoration," a collection of pieces he's performed at the Sept. 11 memorial event.
"I play many beautiful, classical pieces that range in emotion from sorrowful to triumphant, and from nostalgic to hopeful," he said. "The pieces are meant to convey a sense of serenity and reflection."
Though Pila has become a mainstay of the Sept. 11 commemoration ceremony, he says the honor of being asked to perform at such a significant event only grows stronger with time.
"It's almost surreal to be at the World Trade Center on Sept. 11. When the ceremony was outside in previous years, you could look up and imagine the two enormous buildings that used to stand there and the terrible tragedy that took place on the same day years ago," Pila said.
The September 11 Memorial & Museum is located on the site where the Twin Towers once stood. The Memorial opened in 2011, and the Memorial Museum opened in 2014. The Sept. 11 event now takes place inside the Memorial Museum, which contains the final steel beam removed from Ground Zero during the nine-month recovery effort, as well as "missing" posters and other items collected from the scene.
The Sept. 11 event will be the latest in a string of high-profile performances for Pila. In 2015, he performed during Pope Francis' inaugural visit to the United States. Earlier this year, he gave a solo concert at New York's Metropolitan Museum of Art and performed at a fundraising event hosted by Placido Domingo and Mikhail Baryshnikov. Later this month, he will perform a concert for the American Guitar Society in Los Angeles.
Pila earned his Doctor of Musical Arts from the University of Southern California and his Master of Music from The Juilliard School. He began teaching at Polk State in 2014.
In addition to Music, Polk State's arts programs include Theatre and Visual Arts, all of which enjoy outstanding statewide reputations.