Polk State's Parra Completes State-Level Certification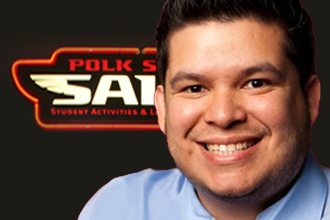 Polk State College's Carlos Parra has completed a rigorous, eight-part certification program through the Florida College System Student Government Association (FCSSGA).
Parra is director of SALO (Student Activities and Leadership Office) on the Winter Haven campus, a position he has held for four years.
He has completed all eight portions of the FCSSGA Advisers Training (FAT) certification program, which is sponsored by the Florida College System Activities Association and coordinated by the FCSSGA Advisers Association.
The FAT program began in 2007 and consists of eight training sessions led by experienced advisers and higher-education professionals. The sessions are presented at FCSSGA meetings as professional development opportunities for Student Government Association advisers.
Parra completed his training over the course of about a year and a half.
The eight sections of the FAT program are based on the 2003 National Study of Student Government Advisers Responsibilities with an emphasis on results from Florida's state and community colleges.
The eight training sessions include:
Adviser as an Information Resource Person
Student/Group Development Theory and Models
Role Modeling
Working with Students
Meetings & Activities
Student Government Finances
Legal Issues
The Legislative Process
Parra said he found the legal portions of the courses the most beneficial.
"Personally, the biggest thing I got out of it was the importance of the Cleary Act and legal issues pertaining to student life and being aware of the many liabilities that can be encountered," he said.
The Cleary Act is a federal mandate that requires colleges to disclose information about crime on campus and the surrounding communities.
Parra said he now plans on pursuing the Advanced FAT certificate, which covers 11 topics and has attendance and presentation requirements.
Polk State SALO has offices in Lakeland and Winter Haven, offering students opportunities to join clubs and organizations, participate in activities and events, engage in community education, play in intramural sports and serve on college-wide committees.
-30-