Polk State's Herb Nold Publishes Articles on Critical-Thinking Techniques, Management Education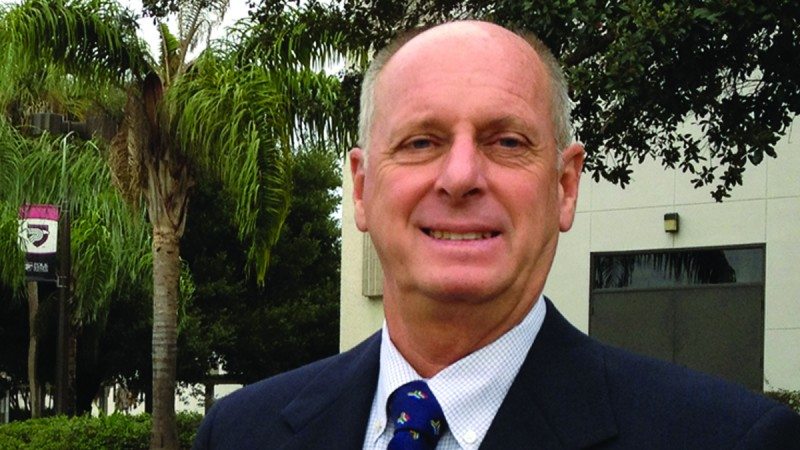 Polk State Business Professor Herb Nold has added two more publishing accomplishments to his curriculum vitae.
Nold's articles "Using Critical Thinking Teaching Methods to Increase Student Success" and "Key Management Capabilities at Low, Mid, and Top Levels: Are Universities Hitting the Mark?" will both soon be published.
"Of course I'm very excited about this news. Every day at Polk State, I make a contribution to the lives of my students, but when I'm able to share my research with the broader educational community, it means I'm also making a contribution to my entire field," said Nold.
Nold's "Using Critical Thinking Teaching Methods to Increase Student Success" builds on previous research published by Associate Vice President for Strategic Initiatives Naomi Boyer and former Director of Institutional Research Peter Usinger in 2013. In "Tracking Pathways to Success," Boyer and Usinger found that even successful students were not employing higher-order learning strategies.
Intrigued, Nold set out to help his own students develop critical-thinking skills because, he said, while students might be able to get by in class without using higher-order learning skills, they won't be able to do so in the real world.
Nold redesigned the curriculum of his Strategic Planning & Management, Operational Decision Making and Business Ethics courses so that students would have to focus more on researching rather than simply reacting to the course topics. Nold had his students engage in online discussions and write two research papers "that challenged their preconceived perceptions and stimulated logical thinking supported by facts," he said.
Nold found that student performance and understanding of course material increased as a result of his new approach.
"In the last 10-15 years, we've seen a drop in the number of business graduates focused on solving problems and equipped with critical-thinking skills. The world is changing very quickly, as are the skills successful managers need. We need to figure out what works for the new economy — and we need to better prepare our students," Nold said.
Meanwhile his article "Key Management Capabilities at Low, Mid, and Top Levels: Are Universities Hitting the Mark?" sought to find out whether universities are teaching their students the "right" management skills for various management positions.
Using qualitative and quantitative data collected from business school faculty members at universities around the world and human resources managers, Nold and his coauthors from Steinbeis University, Berlin, found that task-, relations-, and change-oriented capabilities are all important at the low- and mid-level rungs of management. Meanwhile, at the top level, change-oriented capabilities take precedence while task-oriented behaviors may even be detrimental to the success of the individual and company.
For the layman, task-oriented management capabilities have to do with overseeing and improving the efficiency of specific functions within an organization; relations-oriented management capabilities are concerned with improving the way individuals and teams of employees work together; and change-oriented management capabilities involve influencing the "big picture" of an organization, such as its strategic plan and willingness to accept risk.
Despite the paper's findings, Nold writes, university curricula tend to emphasize task-oriented capabilities, which could hinder students' transition to managerial positions.
"It shows that the skills needed to be successful change at different managerial levels. What our research indicates is that if managers use the same techniques that they do at lower levels, it can actually hurt them," said Nold. "University management curriculum is generally appropriate for training entry-level and mid-level managers, but may be ineffective in helping mid-career managers advance to top-level executive positions."
Nold's articles will be published in upcoming editions of the International Journal of Teaching and Learning in Higher Education and Journal of Management Education, respectively.
Nold has previously been published in the International Journal of Knowledge, Culture and Change Management; International Journal of Management; Journal of Intellectual Capital; Journal of Knowledge Research; and Journal of Management Research.
He also recently presented his research at the Performance Measurement Association Conference in Edinburgh, Scotland, and the 27th International Conference on College Teaching and Learning in Jacksonville, where his paper on critical thinking was also selected to be published in the conference journal.
For more information about Nold's classes or research, contact him at 863.669.4925 or hnold@polk.edu.
Polk State Office of Communications and Public Affairs interns Ketsia Diaz and Sasha Syboodeen collaborated on this article.