Polk State's guide to online tutoring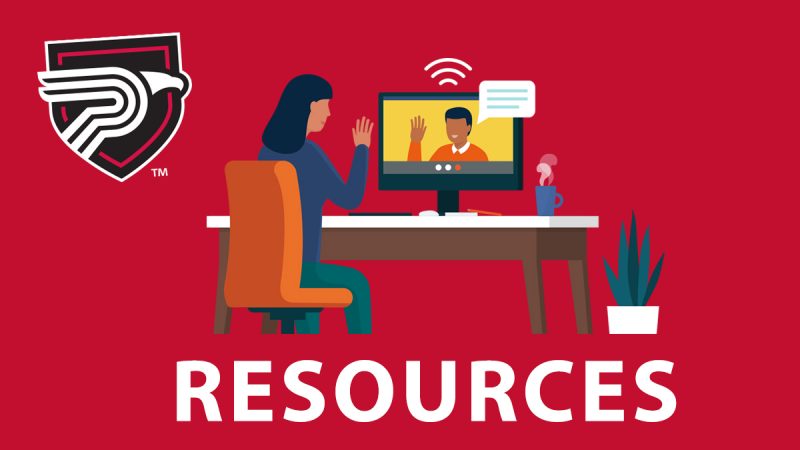 Polk State College students have the advantage of online tutoring and support services even though campuses and centers remain closed.
Through Canvas, students can directly connect with tutors from Polk State's Lakeland, Winter Haven, and JD Alexander Center Teaching Learning Computing Centers (TLCCs).
"When courses went fully online due to COVID-19, we wanted to make sure that students wouldn't miss out on the support they find in the TLCC tutors," said Kim DeRonda, Testing and Tutoring Manager and Librarian. "While we can't connect in-person, we are still here to help in the online environment. Our tutors are ready and waiting and can be easily accessed through links in each Canvas course."
Students do not need to make appointments to access tutoring in a variety of subject areas including:
Writing
Math
Science
Languages
Accounting
Computers
"We have created a Canvas course called TLCC Online Tutoring where students can connect with our Polk State tutors," said Ryan Criss, Winter Haven TLCC Tutoring Services Coordinator.
"Students can ask questions via a discussion board, meet with a tutor virtually in real-time to work on a variety of subjects, or submit a paper for TLCC tutors to review, as well as get technical support for using various online tools," DeRonda explained.
Writing Assistance
Staffed by the College's English faculty, The Writing Studio provides additional teaching beyond the composition and literature classes to individuals and small groups in writing, grammar, and documentation on an as-needed basis for any subject area.
Writing Studio staff help students identify problems in writing, documentation, and grammar and provide instruction so that students can improve their writing for all content areas.
"We seek to guide students to better writing overall and not just on a particular assignment," said HD Childree, Professor of English. "We work with students to determine what they need to learn. Many professors refer their students for help with a particular element, such as avoiding run-on sentences or ensuring that a thesis matches a paper's support. Students receive instructional help that they can then apply to other academic areas."
The Writing Studio has a Canvas course shell that students can join for free.
According to Childree, the most popular element in the course is the Self Check for Grammar and Plagiarism. Students can submit an assignment and receive an automated report from TurnItIn regarding grammar and plagiarism.
To help students review vital skills, The Writing Studio will also offer eight hours of live instruction in the first eight weeks of the fall semester starting on August 19:
Grammar Games: Mondays from 7 p.m. to 7:30 p.m.
Writing Strategies: Wednesdays from 7 p.m. to 7:30 p.m.
All sessions will be recorded for later viewing.
Science Tutoring
Larry Young, Professor of Biology, will offer Directed Study for anatomy and physiology classes remotely. All students will receive information on accessing the sessions from their instructor.
"Sessions are scheduled seven days a week at various times during the day and evening to accommodate student need," Young said.
"Research indicates that students who attend Directed Study, even online, perform 10 to 20 percent higher on their lab exams," he added. "Being able to still offer this vital tutoring experience is critical to our students' academic successes as they progress through the anatomy sequence."
Math Tutoring
Stephen Drier, Professor of Mathematics, has also taken advantage of online resources to stay in touch with students who seek his help.
"During face-to-face classes, I had doughnuts and questions on Friday," he said. "Students would typically come to class, grab a doughnut, and attend a help session. Those sessions would be live streamed on YouTube for live viewing or playback. They have now been moved to a virtual setting and are stored on Canvas although they can also be uploaded to YouTube."
Gregory Toole, Professor of Mathematics, uses MyMathLab or WebAssign for online homework, quizzes, and tests. These programs have built-in resources that can help walk students through an example if they get stuck during their homework.
"They also have a button on every homework example that lets students email me the exact math problem they are working on so they can ask me for help," he said.
"I then use my iPad, a Logitech Crayon (like an Apple pencil), and the Notability iPad app to write up explanations and email them back to the student. I've also created a Google Voice number for students to text me questions if they prefer texting over email. "
For fall semester, all of his courses will be asynchronous online.
"I prerecord lecture videos and provide video links to the students. My students have told me that this format meshes well with their work and family schedules," he said. "We are all facing these unusual circumstances together and being flexible to adapt to students' needs is key."