Polk State's EMT Program Ranked Nationally for Return on Investment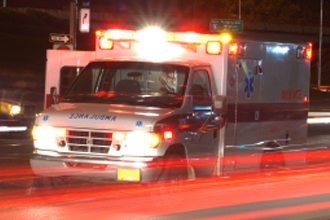 Polk State College's Emergency Medical Technician (EMT) program offers one of the nation's highest returns on investment, a new ranking shows.
The College's inclusion in the ranking, as well as that of several other Florida College System institutions, was hailed by the Florida Department of Education this week.
Fire Science Online, a resource for fire science and first responder education and career information, identified the 80 EMT degree programs with the highest returns on investment.
Polk State's EMT program was ranked at No. 44 in the country. According to Fire Science Online, more than 1,100 colleges in the U.S. offer EMT programs.
Fire Science Online based its rankings on salary data from the U.S. Bureau of Labor Statistics, tuition costs, enrollment and accreditation.
At $110 per credit hour, Polk State is the county's most affordable higher-education option.
"We've always strived to offer a lot of value to our students. To know now that we're 20th in the nation is awesome," Polk State Emergency Medical Services Director Don Guillette said.
"We're always looking for ways to better serve our students and make them as marketable as possible when they leave us. Their success is our ultimate priority."
The field of Emergency Medical Services has three tiers, the first being Emergency Medical Responders, who provide initial, hands-on emergency care. EMTs are the second tier, providing basic life support, such as CPR, splinting and immobilization. Paramedics are at the third tier, taking responsibility for procedures such as intravenous therapy, intubation and defibrillation.
Polk State EMS offers training for those seeking to work at any level of EMS, and an associate's degree for paramedics interested in career advancement.
In addition to its return-on-investment ranking, Polk State's EMT program is known for its high pass rates on the National Registry of Emergency Medical Technicians exam (NREMT). Earlier this year, for the first time in program history, the program ranked No. 1 in the state in terms of students passing the exam.
Polk State was one of 20 FCS institutions included in the Fire Science Online list; there are 28 institutions in the FCS.
"The cost of attending college is a concern for many students and their families," said FCS Chancellor Randy Hanna in a media release distributed by the FLDOE Tuesday. "I am extremely proud of our colleges for offering affordable, high-quality EMT programs that reward students with a good return on investment."
In addition to EMS, Polk State Public Safety offers associate's and bachelor's degrees in Criminal Justice, and an associate's degree in Fire Science. In addition to EMS, Polk State Health Sciences programs include Cardiovascular Technology, Diagnostic Medical Sonography, Nursing, Occupational Therapy Assistant, Physical Therapist Assistant, Radiography and Respiratory Care.