Polk State's Corbeil Named Diamond Club's Coach of the Year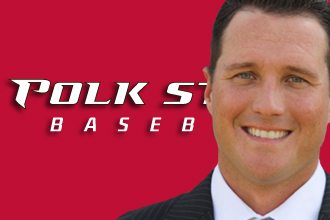 Each year, Florida's professional baseball scouts, a group with unparalleled insight into the game, select one coach as the best in the state.
This year, that coach is Polk State Baseball's Al Corbeil.
Corbeil recently received the 2012 Coach of the Year Award from the Florida Diamond Club, a nonprofit organization established in 1972 by professional baseball scouts to promote the sport. Each year, it awards one Coach of the Year recognition for all college divisions and high schools.
"This is a great honor to be recognized by the professional scouts of Florida. The scouts see a lot of programs at colleges and high schools throughout the state. This is something I'm going to enjoy sharing with my coaching staff to recognize all the hard work we've put in," Corbeil said.
Corbeil is entering his third year at Polk State, having led Polk State Baseball earlier this year to its first appearance in the NJCAA JuCo World Series. Under his watch, the Eagles have also won two consecutive Suncoast Conference Championships and the title game of the FCSAA/NJCAA Division 1 Gulf District Baseball Tournament.
The team ended 2012 ranked No. 3 in the nation.
Corbeil's two-year record at Polk is 89-24-1. Since coming to the College, he has also received FCSAA/NJCAA Coach of the Year and Suncoast Conference Coach of the Year honors.