Polk State's Bucklew Published in National Journal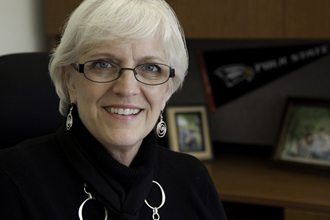 Polk State's Kathy Bucklew will have her research on academic amnesty policies published in the fall edition of College & University, the quarterly journal of the American Association of Collegiate Registrars and Admissions Officers.
Bucklew's article, "Amnesty Policies: In Search of Best Practices," discusses the emergence of policies at higher education institutions that allow students to erase previous low grades that affect their overall grade-point averages.
Bucklew, who is director of student enrollment services and registrar at Polk State, says she began her research into the topic of the opinion that colleges and universities shouldn't adopt such policies, viewing them as a copout for students who hadn't taken higher education seriously.
"In education's great box of chocolates, amnesty policies are a coffee crème: I don't particularly like coffee crème, but if it were the last chocolate in the box, I would eat it," she writes in her article.
As she learned more, however, her perspective changed radically.
"I think what changed my opinion is just understanding the number of students who can't graduate because they're haunted by their old demons. I knew we needed to find a way to help these students," Bucklew said.
Based on Bucklew's research, the College is considering an amnesty policy that would allow students who have changed their career goals or have experienced extraordinary life circumstances to potentially have poor grades forgiven from their Polk State academic records. A committee would approve petitions for amnesty.
"Most of the students who will benefit from such a policy started college without an understanding of the ramifications of bad grades. I think the majority of the students who will use this policy were young and not ready for college," she said.
"But then you do have an occasional student who has met severe circumstances. I can think of one example of a student whose parent was murdered. The student destroyed their second semester of college. What about that student? There should be a pathway to assist that student in getting the overall GPA needed to graduate."
Based in Washington, D.C., College & University is read by registrars, admissions officers and enrollment managers across the country.