Polk State's Arts Integration Summer Institute Readies Teachers for New School Year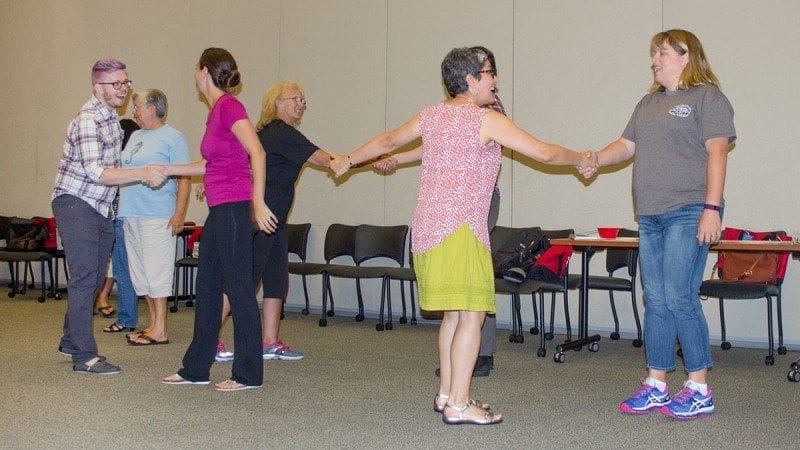 More than a dozen Polk County teachers will head into the new school year better equipped to integrate the arts into their daily lesson plans thanks to a recent workshop at Polk State College.
The Arts Integration Summer Institute took place at the College's Lakeland campus Aug. 5-7.
Organized by Polk State Lake Wales Arts Center Director Osubi Craig, the Arts Integration Summer Institute trains teachers on using the visual and performing arts to teach core subjects such as math and reading.
"We're teaching teachers the difference between arts-enhanced lesson plans and arts integration," said Ilene Fins, a former Polk State Theatre instructor who traveled from South Carolina to help lead the Arts Integration Summer Institute.
"Arts-enhanced means you might use art as part of what you're doing in the classroom, but with arts integration, students learn about the core subject and the arts at the same time."
For example, having students act out important past events can serve as a lesson in both history and, if done right, theatre.
This was the second time in three years the College hosted the Arts Integration Summer Institute. Both times, it has been led by a team of teachers including Fins, Shelley Bourgeois, a dance teacher at Harrison School for the Arts, Jeremy Henry, a theatre teacher at Haines City High School, and Laurel Renfroe, a musical theatre/dance teacher at Harrison.
This year's attendees, representing 10 schools — Gause Academy, Spook Hill Elementary, Combee Elementary and Summerlin Academy, to name a few — began their Institute experience by drawing pictures to represent themselves and their feelings. Then they had to introduce themselves to each other using full-body gestures. They bowed, jumped, kicked and shook, and it was all to break the ice and establish a safe, judgement-free tone, Fins said.
As the Institute progressed, participants took part in exercises that connected modern-day rap songs to Shakespearian tragedies, had them piece together a story from items in a suitcase, and make sock puppets that, as Henry demonstrated, could be used for a wide variety of language lessons, on everything from fables to syllables to enunciation.
The teachers were also introduced to the Kennedy Center's Arts Edge, an online source for arts integration resources, and had the chance to take everything they learned to develop their own lesson plans for the coming year.
Though they teach different grade levels and subjects, attendees all agreed they walked away from the Institute with new tools and insights for incorporating the arts.
"I like the full-body gestures. It's a great way to wake students up, get them moving around and working together," said Paul Peterson, a visual arts teacher at Southwest Middle School. "It's also a way to have some fun. Fun has to be part of the learning process."
Simoni Bonadies, a visual arts teacher at Jewett Middle Academy, was excited about the idea of blending history, visual arts and theatre.
"In art history, you could have students just memorize information about famous artists, like Vincent van Gogh," she said. "But, you could also have students research him, use empathy to try to understand how he felt, and then put on a creative play."
In addition to the training it provides to teachers, the Arts Integration Summer Institute serves another purpose, Craig said in his opening remarks to attendees
"This is one of the most important programs for me as an arts administrator. I use this as a launching point for all the programming that we do at the College. We want to bring in programming that will enhance your curriculum."
In Lake Wales, Polk State operates the Polk State Lake Wales Arts Center, 1099 State Road 60 East, and the Polk State JD Alexander Center, 152 E. Central Ave.