Polk State's Arts Day Is Oct. 27, Will Include Music Performances, Student Art Exhibit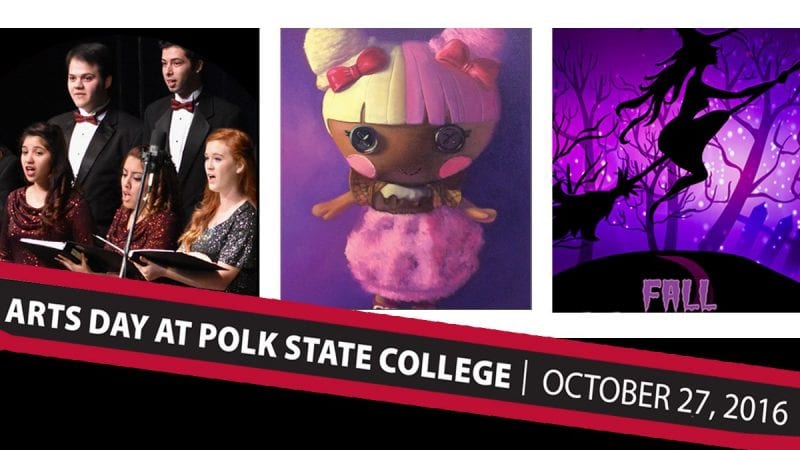 Polk State College's Arts Day will take place Oct. 27 and will showcase the talents of Music and Visual Arts students.
"The depth of talent at Polk State is simply incredible. We created Arts Day in 2015 to celebrate that talent and to offer members of our community the chance to experience it for themselves. If you haven't had the chance to become acquainted with our Music and Visual Arts programs, this is a great time to do it —  you will not be disappointed," said Lucille Hadley, interim director of arts and cultural affairs.
Arts Day events will include:
Polk State College Music Concert
5 to 6 p.m.
Polk State Winter Haven Fine Arts Lobby
Free
Student Art Exhibit Reception
5 to 7 p.m.; awards ceremony at 5:30 p.m.
Polk State Winter Haven Fine Arts Gallery
Free
Fall Spooktacular featuring the Polk State College Symphonic Band
7 p.m.
Polk State Winter Haven Fine Arts Theatre
$7 for adults; $5 for children; children in costume free with a paying adult; free for Polk state students and employees and Polk county high school students
Polk State Symphonic Band Director Donald West said pieces performed during the 2nd Annual Fall Spooktacular will include "Ghostbusters!," the theme from the 1984 movie, "Nevermore," which was inspired by Edgar Allen Poe's "The Raven," highlights from "Phantom of the Opera," and other Halloween-themed selections.
"There will be thrills, chills, fun, and surprises for all ages in this exciting concert by the Polk State Symphonic Band. We will have a costume parade and treats for our younger audience members. This will be a one-of-a-kind family event that will surely get everyone in a Halloween mood," he said.
Arts Day was originally scheduled for Oct. 6, but was rescheduled due to the potential impact of Hurricane Matthew.
Polk State Winter Haven is located at 999 Ave. H N.E.
For more information, visit polk.edu/boxoffice, call 863.298.6883, or email LWAC@polk.edu.