Polk State's 50th Anniversary Recognized at State Capitol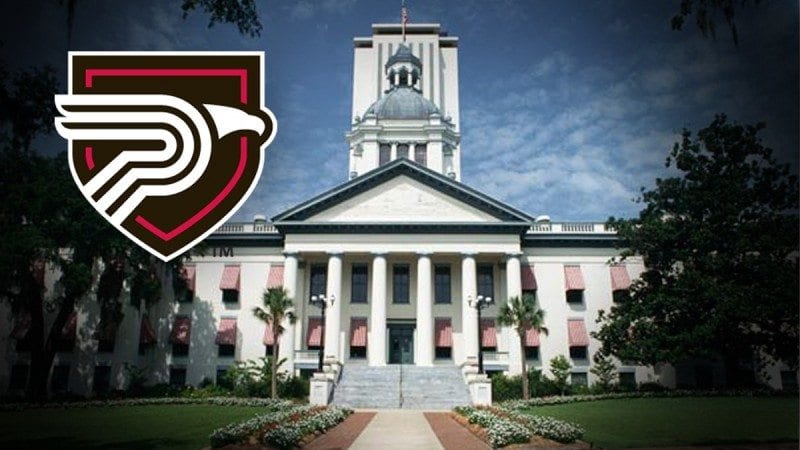 Polk State College's 50th anniversary was recognized in both houses of the state Legislature on Tuesday, during Polk County Legislative Day.
"Polk State is, of course, incredibly proud of the contributions it has been able to make to Polk County for half a century. There are generations of alumni whose lives have taken totally new directions because of the education they received at Polk," said President Eileen Holden.
"To have our state lawmakers pause to honor the College and its legacy, it's a great honor and truly a highlight of our golden anniversary celebration."
The Senate adopted resolution 1228, which was introduced by Sen. Kelli Stargel (R-Lakeland) to officially recognize the College's 50th year. The resolution was co-introduced by Darren Soto (D-Kissimmee) and Polk State alumna Denise Grimsley (R-Sebring).
In the House, Polk State alumnus Rep. Neil Combee (R-Polk City) offered a proclamation honoring the College.
Both the Senate and House recognized Polk State for its growth in 50 years, from serving 1,100 students in its first semester at the former Bartow Airbase to serving nearly 24,000 students annually, as well as its addition in recent years of workforce-targeted bachelor's degrees.
Senate Resolution 1228 read in part:
"Whereas, Polk State College promotes excellence and student success through innovation, value, and engagement while manifesting its core values of service, integrity, knowledge, diversity and leadership, now, therefore, be it resolved by the Senate of Florida that we recognize Polk State College on the occasion of its 50th anniversary."
Polk State College, an open-access institution, was established in 1964, and serves nearly 24,000 students annually. Its offerings include the Associate in Arts, which is parallel and fully transferrable to the State University System, and the Associate in Science, which is designed to lead directly to the workforce. The College also offers the Bachelor of Applied Science in Supervision and Management, Bachelor of Science in Nursing, Bachelor of Science in Criminal Justice, and a variety of continuing education and certificate programs.