Polk State's 109th Commencement is Dec. 12; Winter Haven City Manager Deric Feacher to Speak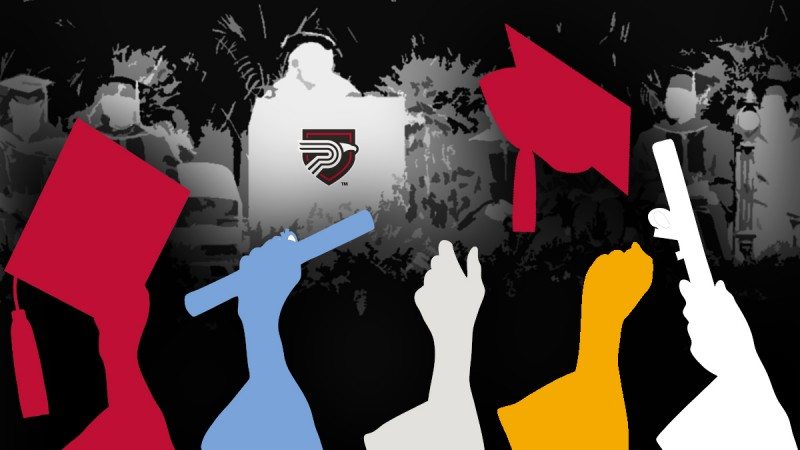 Polk State College will celebrate its 109th commencement at 6:30 p.m. on Dec. 12 at The Lakeland Center's Jenkins Arena.
The ceremony will feature a keynote address by Winter Haven native and City Manager Deric Feacher.
"Deric has long been a supporter of the College, its mission, and its students, and we're very excited to have him come and share his encouraging words with our graduates as they prepare to move on to the next chapter of their lives. We know he'll inspire not only the graduates, but everyone in the arena on this special night," said Polk State President Eileen Holden.
A total of 1,134 students qualify to march during the ceremony, ranking it among the largest in College's 50-year history.
This is the first fall commencement that will take place at The Lakeland Center. Previously, spring graduation ceremonies took place at The Lakeland Center, but fall ceremonies took place at the Polk State Winter Haven Health Center.
However, as the size of its graduating classes has grown, the College has decided to permanently move all of its commencement ceremonies to The Lakeland Center.
Of the 1,134 members of the College's 109th graduating class, 85 will receive their Bachelor of Applied Science in Supervision and Management degrees. The BAS prepares students for advancement in a variety of business-related fields, including Business Administration, Business Information Technology, Healthcare Administration, Public Administration and Public Safety Management.
Another 33 will receive their Bachelor of Science in Nursing degrees.
The majority of the graduates — 715, or 63 percent — will receive their Associate in Arts degrees, which are parallel and fully transferrable to the State University System.
Another 198 graduates, or 17 percent, will receive Associate in Science degrees, and 42, or 4 percent, will receive Associate in Applied Science degrees; both the AS and AAS are designed to lead directly to the workforce. For two consecutive years, graduates of Polk State's workforce degree programs have secured employment at higher rates than graduates from any other public college in the state.
The remainder of the graduates will receive a variety of workforce certificates.
Of the graduates, 18 will receive the College's Honors Program distinction on their diplomas. Honors Program graduates must complete a minimum of 18 credit hours with the Honors designation.
During the ceremony, the College will present its Distinguished Alumnus Award to Auburndale City Manager Robert R. "Bobby" Green.
Green graduated from Polk State with his Associate in Arts degree in 1985. He went on to receive his bachelor's degree in Public Administration from the University of Central Florida and his master's degree in Public Administration from the University of South Florida.
A native of Auburndale, he has been its city manager since 1991, making him the county's longest-serving city manager. He oversees a staff of 168 employees, reports to five elected officials, and manages a municipal budget of $31 million.
In 1980, he was elected to the Auburndale City Commission, when he was just 21. Two years later, he was elected mayor, becoming the youngest elected mayor in Florida's history.
Polk State College has awarded nearly 40,000 degrees since it was founded in 1964. Here is a more detailed look at this semester's graduating class:
Approximately 411 students plan to march in the commencement ceremony.
27 students have earned the academic distinction of Summa Cum Laude, with a grade-point average of 3.9 or higher; 39 have earned Magna Cum Laude, with a GPA of 3.75 to 3.89; and 124 have earned Cum Laude, with a GPA of 3.5 to 3.74. Thirteen students have a 4.0 GPA.
The age range of graduates is 18 to 67.
In addition to Florida, graduates represent California, Colorado, Louisiana, Missouri, New York, Pennsylvania, Texas, Utah and Washington.
Polk State College, an open-access institution, was established in 1964, and serves more than 20,000 students annually. For more information, visit polk.edu.