Polk State Winter Haven's Newest Librarian: Don't Even Try to Judge This Book By Its Cover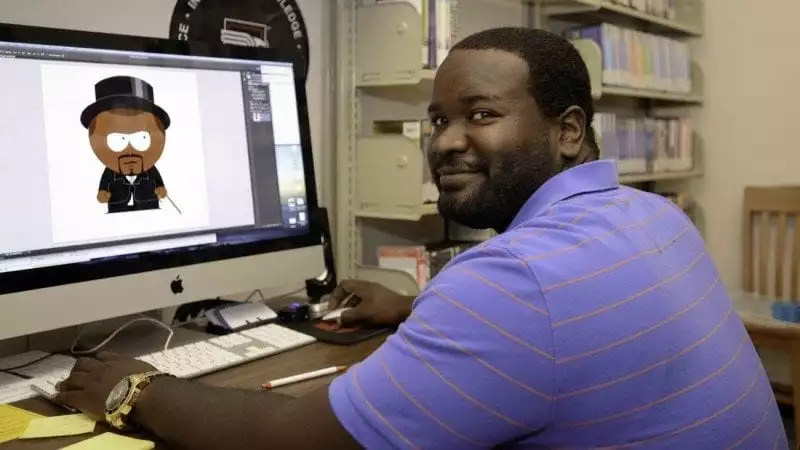 Disclaimer: News@Polk does not support the use of clichés, but in this case, we couldn't resist.
They say you can't judge a book by its cover, and that's definitely the case with Jarrod Jones, the newly hired reference and instruction librarian at Polk State Winter Haven.
"Yeah, that is pretty cliché, but it is kind of the essence of the story," said Jones, with only a slightly amused chuckle.
Something tells us Jones has heard all this before.
Still, let us explain why that old saying so perfectly frames Jones' story. Consider the stereotypical librarian: Older. Glasses. Constantly shushing people. Avid reader.
Now consider Jones. He's only 28. No glasses. Rather than shush library patrons, he's more likely to show them his most recent YouTube video. He likes to read, sure, but he much prefers electronic databases to the stacks.
"People think librarians stay home and listen to classical music and read all the time," Jones said. "I'm more likely to be in line to see the new 'Dracula' movie than to be at home reading the actual 'Dracula.'"
Jones is also African-American, a rarity in the library world. According to data from the American Library Association, only 4 percent of its more than 40,000 members are black.
That Jones is not what most people think of when they think "librarian" is fitting since today's library isn't what it used to be, or what a lot of people expect.
"Ten or 15 years ago, people were saying that libraries were going to be no more, that technology would do away with books and everyone would do everything remotely," said Chris Fullerton, director of the TLCC and Learning Resources at Polk State Winter Haven.
"Instead, we are serving a bajillion times more people. Technology has made everything more exciting, but also created so many more options and questions. Jarrod is a tech guy, and he loves sharing technology with others — that's a great combination."
So how did the very un-librarian-ish Jones end up working in a library?
The story goes like this:
He grew up in Winter Haven. His dad is a Navy veteran. His mom is a certified tumor registrar, a job that involves analyzing and interpreting medical records.
Like most of us, his first experiences with libraries came during his school years, first at Jewett School of the Arts — where he read every "Goosebumps" book in the collection — and later at Lake Region High School.
When he went off to school at the University of Florida, however, he intended to become a computer programmer, not a librarian.
"Then I decided I wanted to be a history professor," he said. "One of my professors suggested I work in the special collections department at the library, where they keep the archives and historical materials. Those collections were very interesting to me.
"As a history major, I had to do a lot of research, and I knew I wanted to work in academia. Eventually, everything just came together for me and I made that turn toward becoming an academic librarian."
After graduating with his bachelor's in history from UF, Jones went on to earn a master's in library and information sciences at the University of South Florida, and about four years ago, he came to work at Polk State Winter Haven on a part-time basis.
Since then, he's approached his job in a decidedly un-libarian-ish fashion. For instance, there's his comic book. Inspired by his colleagues and a website he found that allows users to create their own "South Park"-inspired characters, Jones started publishing the book three years ago as a fun way to answer students' questions. The most recent edition includes information on how to login to the library's website and pay for copies, but also directs students to the library's Facebook page (facebook.com/polkstatewhlibrary), Twitter account (@polkstatelib), and YouTube channel.
Yes, a YouTube channel (Polk State Library). There, students will find recently posted videos such as "Top 10 Reasons to Visit the Library" — No. 10 is "to do research/get on Facebook — and "Library Linebacker." In the latter, Jones wears football pads and "defends" against infractions such as improper headphone checkout and disruptive cell-phone use.
"Jarrod has done so much for the library, especially in the area of technology. He is truly an asset for us," said Reference Librarian Linda Young, who makes a cameo in "Librarian Linebacker," in which she attempts to wear Jones' outsized pads.
Whether students get the jokes in the videos or roll their eyes, whether they find the comic book helpful or silly, one thing is certain, Jones is getting their attention — and that's precisely the point, Fullerton said.
"I heard someone saying that they saw a student sitting in the lounge area, looking at the comic book with a quizzical look on his face, like he didn't know what to make of it," she said. "But that's not necessarily a bad thing. He was looking at it and thinking, 'What is this?' We'll take that."
Comic books and YouTube videos aside, Jones' interests lie in leveraging technology to support students and faculty.
He is currently the enrolled librarian for more than 60 classes, from English Composition to advanced Nursing courses, allowing him to interact with instructors and students via PAL. Whether online or face-to-face, Jones loves seeing the reaction when he introduces students to the library's wide variety of electronic databases, and other handy tools, like online citation builders.
"Sometimes, students come in and they think Google or Wikipedia is the end-all of research," he said. "When they see all the other electronic resources we can offer, they are usually a little overwhelmed at first. Then they get into the hands-on activity of researching and citing sources, and there's this confidence that comes over them."
So, there you have Jones: comic book creator, YouTube producer, and tech-savvy librarian. You'd never guess all that by looking at him — but that may be one of his greatest assets.
"He is really able to relate to the students," Fullerton said. "They come in and they see him sitting at the same desk as the other librarians, but it's like they think he couldn't possibly be a librarian. He will have helped them for weeks and then students will say to him, 'So, you're like a librarian.' But that's OK, it doesn't matter what they think he is. They trust him and his opinions, and he helps them get what they need."
Jones' office at Polk State Winter Haven is located in WLR-306A.
Polk State has full-service academic libraries at its Lakeland and Winter Haven campuses. Additionally, library services are offered at the Polk State Airside Center and Polk State JD Alexander Center in Lake Wales.