Polk State Winter Haven Library Celebrates Ribbon Cutting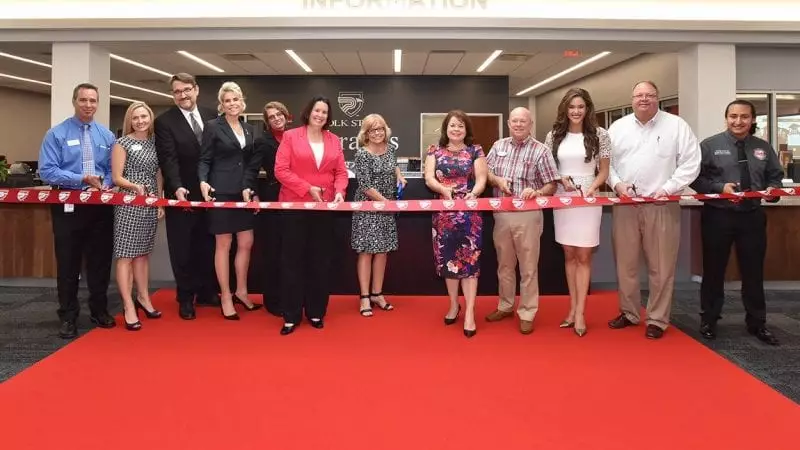 The Polk State Winter Haven Campus Library held a ribbon-cutting ceremony on February 28 to officially welcome the community to the renovated space. The event celebrated the transformation of the 17,027-square-foot facility into a vibrant, state-of-the-art, intellectual hub for the campus.
The Library renovation represents a commitment to providing more technologically enhanced space where students, faculty, and staff can connect, share, learn, and create. The space is open and inviting, and provides a user-friendly atmosphere where all can benefit from library staff and resources.
Polk State President Eileen Holden provided opening remarks, thanking the community, elected officials, the Polk State District Board of Trustees and the Polk State College Foundation for their support and all of the work on the large-scale project.
"This is an exciting day to celebrate," she said. "This building is one of the most heavily used facilities at the College, welcoming more than 2,700 people per day. This renovation would not have been possible without all of the support that we received, not only from our elected officials, but also from the planning committee, faculty, staff, and students. Of course, we are especially grateful to AD Morgan Corporation, our contractor, who worked with us every step of the way."
President Holden introduced Gonzalo Gutierrez, President of the Winter Haven Campus Student Government Association, who provided a student perspective on the updated library.
"The Library is a great asset for students," Gutierrez commented. "From the enhanced technology, closed study rooms, and extensive databases, to the comprehensive books, periodicals, and study resources, every student has access to what is needed to succeed in his or her collegiate pursuits."
Holden reflected on the history of the building's renovation, as the project has advanced in phases. Much of the progress of the renovated building was due to key funding from the Florida Legislature. Holden noted that the hard work of both previous and current legislators was the catalyst that enabled the project to proceed to completion. In attendance at the ribbon cutting were State Senator Kelli Stargel, and State Representatives Collen Burton and Sam Killebrew.
"I have had the great pleasure of working with Senator Stargel for many years, and I have such respect for her work ethic," said Holden. "She always gives time and thought into understanding everything we discuss with her. She has been a true advocate for us," Holden continued. "We truly appreciate the funding you were able to acquire for these renovations and for all you do, consistently, for Polk State."
Senator Stargel also gave her praise to the project.
"This is incredible…the designers did a great job using the natural light that is here to create an inviting place. This library fills the need for so many students who may not have the resources at home," she said. "This great renovation adds to all of the great things that are happening here at the College. I am so happy to have an institution like this in my community."
Dr. Holden then expressed her gratitude to State Representative Colleen Burton and invited her to offer remarks.
Burton noted that she likes to meet with and talk with students when they visit Tallahassee, and had recently met with students from Polk State.
"The students from Polk State who visited were… the first in their families to go to college." She continued, "You cannot help but be moved when you know your state college, your community, is supporting not only these students—who represent but a fraction of the students who have similar stories—but all students. To be able to work on behalf of a community that I love…[I believe] that the ability for our community to build a future for themselves and their families is dependent upon their ability to access high-quality education. And we, 'we' as in Polk State, do that better than any other college in Florida. This library is a true example of that."
Dr. Holden also acknowledged Representative Sam Killebrew. While new to the legislative delegation, Dr. Holden noted his ongoing support of Polk State even before becoming a Legislator. She welcomed his leadership and looks forward to his contributions in the legislature.
The library renovations required the collective engagement and activity of staff, faculty, and students. Primary to the process was Director of the Winter Haven Campus Library and TLCC Chris Fullerton. Dr. Holden shared that Fullerton was instrumental in navigating between the needs and wants of the Polk State community. Fullerton thanked all those who helped accomplish the massive task:
"Though this was a long and detailed process, the ultimate reward is seeing our students, working with our students, and watching their awe at the new space," she said. "The students love this. They love what they have been given and you can see how much they cherish this place. They, as do I, truly appreciate what's been done for them. Thank you."
Dr. Holden also recognized many of the key individuals who supported the Polk State Winter Haven Campus Library project, including:
The Polk State College District Board of Trustees
The Winter Haven City Commission
Polk County's Board of County Commissioners
Past and present members of the Polk County legislative delegation, including former Senator JD Alexander and former Representative Seth McKeel
The Winter Haven Chamber of Commerce
Partners at Rowe Architects and The A.D. Morgan Corporation, as well as their subcontractors
Polk State's Project Manager Robbie Manikis
Upon the conclusion of dignitaries' remarks, the ribbon was officially cut. All in attendance were invited to take part in tours showcasing the renovations and enhancements.
The new library space includes:
A one-stop circulation and reference desk
A dedicated training lab for classes
Group-study rooms
Private tutoring rooms
Technology charging stations
Private desk spaces
A computer lab with easy print options
More information on Polk State's libraries can be found at: https://www.polk.edu/library/.