Polk State welcomes students to Fall 2020 Semester and Phase II of Return to Campus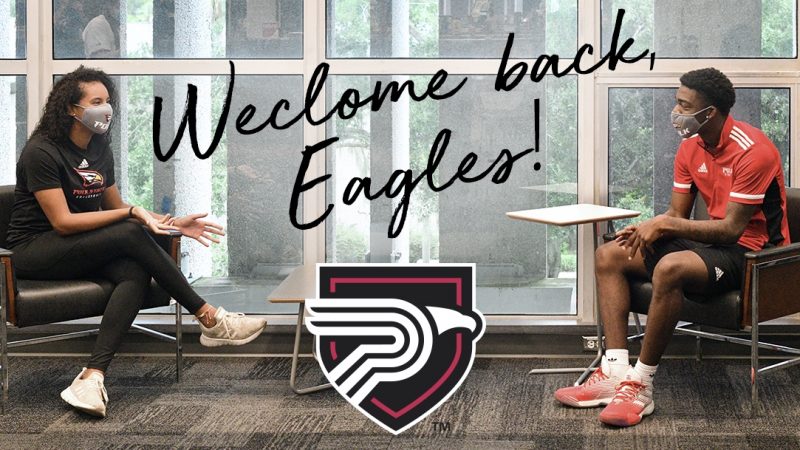 Polk State College welcomed a limited number of students and employees back to its campuses on Monday, August 17, for the Fall 2020 Semester and Phase II of its Return to Campus Plan.
While most classes remain online for the fall, some students visited the Winter Haven and Lakeland campuses on Monday to access Student Services including advising, registration, and financial aid. Students and employees alike are following Centers for Disease Control and Prevention (CDC) and Return to Campus Plan guidelines closely, including the requirement of cloth face coverings.
"The College is thrilled to start the academic year strong and to return some services to campuses at a limited capacity to further support our students," Polk State President Angela Garcia Falconetti said. "Students, your faculty and staff are here to help you and when you visit our campuses, please know that even though you may not be able to see them, you will be greeted with smiles from under our face masks."
In addition to the 16-week session that began on Monday, enrollment continues to take place for 12-week and eight-week sessions, which will start on September 14 and October 14, respectively.
Polk State has compiled a list of resources for learning in the online environment, and encourages students to access services remotely. Students should only come to campus if necessary.
Students and prospective students may email registrar@polk.edu, call 863.297.1000, or use the web chat in the bottom right corner of the polk.edu/admission-aid page for assistance with admission, advising, and registration.
Students may email financialaid@polk.edu, call 863.297.1004, or view the College's online FAFSA tutorial at polk.edu/admission-aid/financial-aid for assistance with financial aid.
Students may also call the Academic Support Line at 863.669.2833 to receive assistance with technology needs.
"Polk State's faculty also remain ready and eager to help students in their courses as well as with connecting to College resources," said April Robinson, Dean of Academic Affairs for the Winter Haven Campus. "Classes and most services may still be in the remote environment, but we are here and ready to effectively serve our students with phenomenal instruction and support. It's truly an honor to help."
Since Polk State closed its facilities in March, faculty have converted more than 2,300 courses from face-to-face to online and hybrid formats to allow students to persevere toward their academic goals during the pandemic.
Classes are taking place in a variety of formats, including synchronous courses with scheduled virtual class meetings, and asynchronous courses with recorded lessons and coursework to be completed on students' own schedules. When registering for classes, students should read the course description in Passport to understand their formats and expectations.
"Our faculty have gone above and beyond to maintain academic continuity as well as a strong support system for our students," said John Glenn, Dean of Academic Affairs for the Lakeland Campus. "Polk State continues to provide exceptional education and we wish every student a successful semester as we soar to new heights."