Polk State-Trained Paramedic: "The Patient Always Comes First"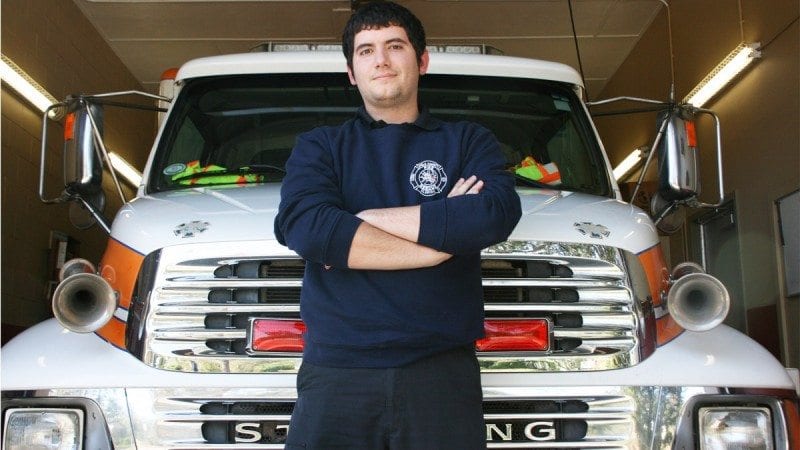 Gov. Rick Scott has declared Jan. 5-9 First Responder Appreciation Week. Polk State College commends and thanks all those working in the public safety field. Here, News@Polk highlights Jared vanHoek, a firefighter/paramedic with Polk County Fire Rescue and the Polk State Emergency Medical Services program's 2014 Preceptor of the Year.
In his four years as a firefighter/paramedic, Jared vanHoek has known plenty of heartbreak.
There was a 4-year-old involved in a drunk-driving crash. A little girl who died of cardiac arrest. Patients who couldn't be saved and the grim task of having to deliver the news to their loved ones.
But there was also a 41-year-old woman whose heart, for inexplicable reasons, suddenly stopped beating.
"In other cases, with elderly patients or people who have health problems, we're battling nature to an extent. With this patient, she was healthy and she was only 41. There was no reason for this to have happened. We were able to revive her, and she lived," vanHoek said.
The patients who don't survive sometimes weigh on vanHoek, but it's the ones who do, like that 41-year-old woman, who sustain him.
"I take a lot of pride in the fact that I know I'm helping people," said vanHoek, 26.
Growing up, interestingly enough, the one thing that vanHoek thought he knew was that he didn't want to be a paramedic.
His mother and grandmother were both nurses. His father and stepmother were both paramedics. He wanted nothing to do with the medical field. Period.
After graduating from Santa Fe Catholic School, vanHoek enrolled at Polk State. He was interested in psychology and photography, but after classes in both, knew neither was for him.
"One day, I was driving to school, and I was like, 'I want to be a paramedic," vanHoek said. "It just clicked. Of course I wanted to be one, I just didn't know it. There had never been anything else I really wanted to be."
With his parents still dumbfounded by his about-face, vanHoek enrolled in Polk State's Emergency Medical Services program. Climbing the EMS ladder, he first earned certification as an emergency medical responder, then as an emergency medical technician.
At the highest rung, however, he stumbled.
During his last semester of paramedic training, vanHoek earned a final grade of 79.82 percent. The program requires at least 80 percent. vanHoek couldn't repeat the third semester of the program for an entire year.
"That was really tough. I had to own up to the fact that I didn't pass because I didn't apply myself and I didn't take it seriously enough, even though it was what I really wanted to do."
During his year off from Polk, vanHoek completed firefighter training at Ridge Career Center, but his true desire has always been to help patients. So, when the year passed, he re-enrolled — and he was more determined than ever.
"I think that was the best thing that could have happened. At first, it was so depressing, but it was also good motivation," he said.
The second time around, vanHoek passed — and comfortably.
"When I walked out of there, I fell to my knees and just started crying. It was finally done," he said. "It meant a lot more to me because I had failed the first time."
vanHoek completed the paramedic program in 2010 and shortly thereafter joined Polk County Fire Rescue.
Today, he's assigned to Station 721 in Mulberry.
vanHoek volunteers as a preceptor for Polk State EMS, overseeing current students as they complete their field training. In 2014, based on student reviews, the EMS program selected vanHoek as its Preceptor of the Year.
"The students had exceptional remarks about Jared," said Polk State EMS director Don Guillette. "He goes the extra mile to really show students how things are done in the field."
As is so typical of first responders, vanHoek never expects any recognition — as a firefighter/paramedic or as a preceptor.
"I want to help students be as prepared as they can possibly be. I haven't been out of school that long, so I know all the tough stuff they have to study, and I know the stuff that they study that they don't think is really going to matter. I want to help them understand why it matters and to make them better," he said.
When he's not teaching rising EMS students, vanHoek is the student. He's at the end of his Associate in Science in EMS degree, and he plans to continue on for his Bachelor of Applied Science in Supervision and Management. Ultimately, he'd like to become a physician's assistant.
"I have the greatest impact when I'm helping patients," he said. "For me, the patient always comes first."
The field of EMS has three tiers, with paramedics at the top, above emergency medical technicians and emergency medical responders. Polk State EMS offers training options for those seeking to work at any level of the EMS ladder, and an associate's degree in EMS for paramedics interested in career advancement. In addition to EMS, Polk State Public Safety offers associate's and bachelor's degrees in Criminal Justice, and an associate's degree in Fire Science. In addition to EMS, Polk State Health Sciences programs include Cardiovascular Technology, Diagnostic Medical Sonography, Nursing, Occupational Therapy Assistant, Physical Therapist Assistant, Radiography and Respiratory Care.
Polk State College's history is rich with stories of alumni who have gone on to make impacts, whether in the classrooms and laboratories of prestigious universities, the rough and tumble of commerce, or the halls of political power. Over the years, thousands of Polk State graduates have leveraged their education and experiences at Polk to transform their own lives and the lives of others. This transformation is the essence of what it means to "be Polk." Whether in big ways or small ways, Polk State alumni embrace the challenge of living lives that matter. News@polk regularly profiles these alumni. Their story is the story of Polk. They are The Pride of Polk.