For Polk State-Trained EMT, Career Plan B "Happened for a Reason"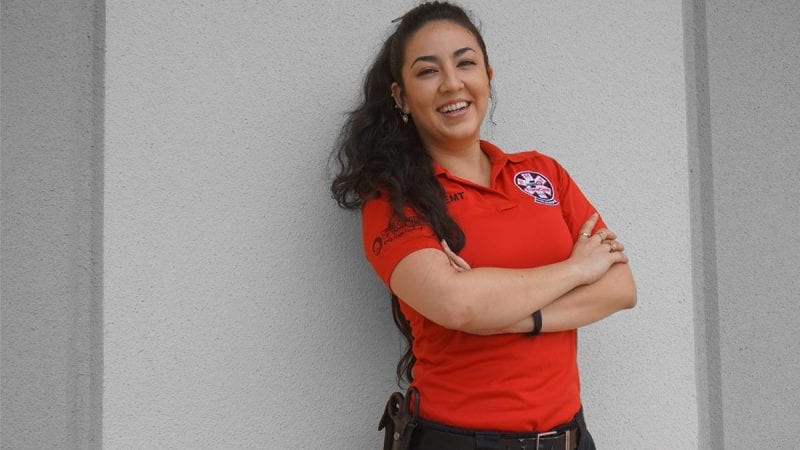 When her application to medical school was rejected, a lot of thoughts went through Ada Bobola's head:
Maybe if I'd studied a little harder.
Maybe if I'd gotten a B in chemistry instead of a C.
I've wanted to be a doctor my whole life.
What am I going to do now?
What she decided to do was enroll at Polk State College to become an emergency medical technician. Being an EMT wasn't the dream she'd pursued since childhood, but as she said on a recent afternoon, having just worked a 12-hour shift:
"I'm still helping people — and that's all I wanted to do."
Bobola, 29, was born in Miami, after her mother, also named Ada, immigrated from Colombia.
"She wanted to give me a better life," Bobola said. "That was her gift to us, to bring us to America so we could get an education and do what we wanted."
Her whole life, Bobola wanted to be a doctor. After graduating from high school, she enrolled at the University of Central Florida, majoring in biology with the plan of eventually continuing on to medical school.
"But I had a hard time with the prerequisites," Bobola said. "Chemistry, math and physics."
Bobola eventually switched majors to psychology. She excelled in that course of study, earning A's and B's, she said, but in the science courses required for medical school, she was still pulling C's.
When she graduated from UCF with a bachelor's degree, she submitted applications to the medical schools at both UCF and the University of South Florida. A few weeks letter, rejection letters from both universities arrived in the mail.
"I just sat there, crying, frustrated and angry," she said. "I tried my hardest in those classes. I'd heard of people not doing great in the prerequisites and still getting into medical school, so I still had a little hope. When those letters came, I felt like I'd wasted my life. I felt like I was going to be an eternally broke college kid."
Bobola allowed herself a few days of disappointment, but soon she was considering  other options. Her brother had once worked as an emergency medical technician (EMT) and had liked it. Thinking she might like it too, she started searching for programs online.
"Polk State kept coming up in the search results," she said. "I'd never heard of Polk State, but their program is one of the best in the state."
Polk State's Emergency Medical Services program consistently has one of the highest pass rates in the state on required certification examinations.
Convinced Polk State was the place to begin her career plan B, Bobola set out to become an EMT as quickly as possible.
In the world of emergency medical services, there are three levels of care. Emergency medical responders deliver the initial and most basic response, including first aid and transport. EMTs provide basic life support, such as CPR and immobilization. At the highest level are paramedics, who administer advanced life support measures, such as intravenous therapy, intubation, and defibrillation. Polk State offers certificate programs for all three levels of the EMS system, as well as an Associate in Science degree for those seeking career advancement.
Had she climbed the EMS ladder in the traditional way, Bobola would have spent a semester studying at Polk State, preparing for the exam to become an emergency medical responder. Instead, to save time, Bobola studied on her own, reading in between her work as a performer at Medieval Times and Disney World, and shifts as a belly dancer at a Greek restaurant in Orlando.
"A lot of nights, I'd get off my shift at Medieval Times and I'd be waiting for my husband, who's also a performer there, to get off," she said. "I'd just go out to the car and read the study guide. Anything I wasn't sure about, I'd look up online and read more about. Then I started taking practice tests online. I was on it."
Bobola's month of study paid off. She earned her EMR certification, and immediately started the EMT program at Polk State. She completed the program in December 2015, passed the national EMT exam in January, and in March, a year after she received her medical school rejection letters, began working for TransCare Medical Transportation Services, part of the Crisis Center of Tampa Bay.
According to the Crisis Center's website, TransCare provides primary 911 basic life support services in the City of Tampa; basic life support emergency and non-emergency ambulance service throughout Hillsborough County; and countywide psychiatric transports.
She's still new to the job, but since the first day, Bobola has been confident she made the right decision, both to become an EMT and to study at Polk State.
"Polk State is intense," she said. "The standards they hold their students to are higher than those of other schools. I remember when I was interviewing at TransCare, my supervisor saw 'Polk State' on my application and he had a really satisfied look on his face. Polk State definitely prepared me to be an EMT."
Three days a week, Bobola works a 12-hour shift with TransCare, responding to patients with injuries and illnesses, from broken bones to chest pains. On her off days, she works six other jobs as a performer and belly dancer. She's planning to return to Polk soon to complete the paramedic program — Polk State is the only option she's considered for continuing her education. She also plans to try for medical school again one day.
She may not have been accepted to medical school when she wanted to be, but Bobola still has a career in the medical field and still has time for all the other things she loves to do. Sometimes, she said, a rejection letter can lead very good things.
"I think it happened for a reason," she said.
In addition to EMS, Polk State Public Safety offers associate's and bachelor's degrees in Criminal Justice, and an associate's degree in Fire Science. In addition to EMS, Polk State Health Sciences programs include Cardiovascular Technology, Diagnostic Medical Sonography, Nursing, Occupational Therapy Assistant, Physical Therapist Assistant, Radiography and Respiratory Care.
Polk State College's history is rich with stories of alumni who have gone on to make impacts, whether in the classrooms and laboratories of prestigious universities, the rough and tumble of commerce, or the halls of political power. Over the years, thousands of Polk State graduates have leveraged their education and experiences at Polk to transform their own lives and the lives of others. This transformation is the essence of what it means to "be Polk." Whether in big ways or small ways, Polk State alumni embrace the challenge of living lives that matter. News@polk regularly profiles these alumni. Their story is the story of Polk. They are The Pride of Polk.