Polk State to Host Kathleen High Criminal Justice Academy Students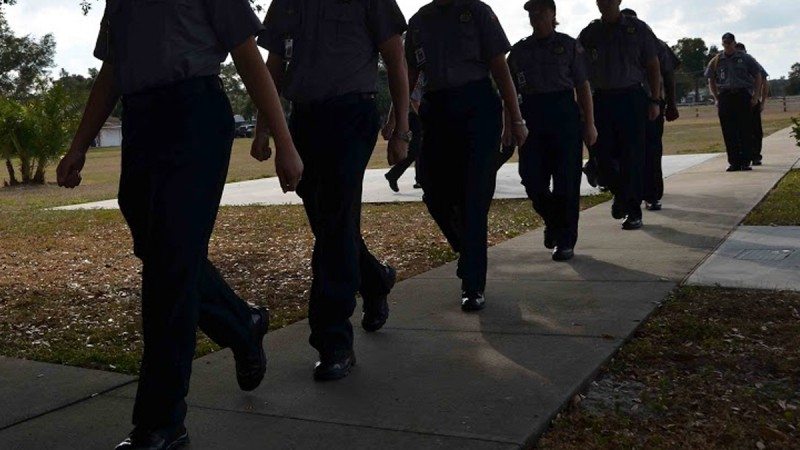 Polk State College will host students from Kathleen High School's Criminal Justice Academy on Dec. 8, a morning that will be jam-packed with law enforcement demonstrations and information.
The 40 visiting students will begin their day with a 10 a.m. K-9 demonstration by the Polk County Sheriff's Office. The Sheriff's Office will also display equipment, including an airboat, helicopter and armored SWAT vehicle. SWAT Team officers will be available for a question-and-answer session.
Also included in the visit will be Taser and Simunition demonstrations. Simunition is a nonlethal form of ammunition similar to paintballs.
Rounding out the visit will be Sheriff's Office demonstrations on crime scene investigations. Students will leave the College at noon.
"It's going to be an awesome day. There won't be a moment of boredom," said Sgt. Christen Shea, Criminal Justice AS/AAS program coordinator.
The aim of the event is to provide the students with highlights of the criminal justice field. The information they gather during the day will help them in making future career and education choices.
"The tour is going to tie everything we're learning in class together," said Sheriff's Deputy and Kathleen Criminal Justice Academy Coordinator Lyle Tripp. "When you're in high school, you talk a lot about the future, but this is going to make it real."
Polk State College has an articulation agreement with Kathleen's Criminal Justice Academy, meaning students may receive college credit for their high school coursework.
The Kathleen High School visit is one of a handful of similar events the College is hosting to reach out to area high school students.
"The tours are a great way of getting student s on the campus, especially first-generation students or those who may be intimidated by the idea of college," said Christopher Yannes, career and technical outreach coordinator. "During the tours, they learn about the many options they have after high school, including getting an Associate in Science that will prepare them for a career in just two years."
Earlier this month, firefighting students from Ridge Career Center spent a day at the Winter Haven campus. The visit included emergency medical technician (EMT) and paramedic presentations, as well as presentations from Lakeland Fire Chief Gary Ballard and David Byrd, a teacher resource specialist trainer with Polk County Public Schools.
Polk State's associate degrees in criminal justice prepare students to work in law enforcement, corrections, probation/parole, private/industry security, and other criminal justice fields. Approximately 20 students graduate per year from Polk State's Criminal Justice program, earning either an associate in science or associate in applied science.