Polk State to Host Black Violin for Two Free Performances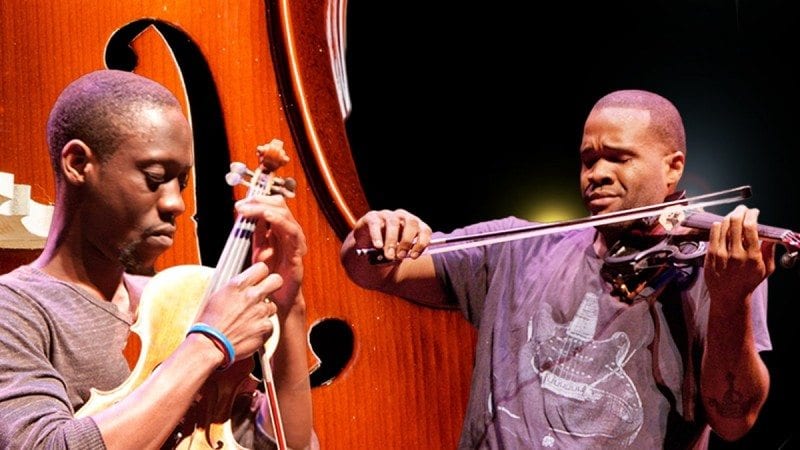 Polk State College will host the classically trained and critically acclaimed duo Black Violin for two performances on April 17.
The forces behind Black Violin are Wil B and Kev Marcus, who wield their instruments for a musical experience that incorporates hip-hop, R&B and pop music.
The musicians have been playing together for a decade, and in that time have averaged 200 shows per year in 49 states and 36 countries. Highlights of their collaboration have included appearing at official NFL events, including three Super Bowls, the U.S. Open, where they shared the stage with American Idol alumna Jordin Sparks, and the 2013 Inaugural Celebration in Washington, D.C.
Black Violin has also accompanied Alicia Keys at the 2004 Billboard Music Awards, and appeared with Gym Class Heroes, Fall out Boy's Patrick Stump and Linkin Park's Mike Shinoda, and opened for Fat Joe, Akon and the Wu-Tang Clan. Their list of famous collaborations also includes P. Diddy, Kanye West, 50 Cent, Tom Petty, Aerosmith, Aretha Franklin and The Eagles.
Black Violin's newest album, Classically Trained, is a follow-up to their 2007 self-titled debut.
Black Violin will perform at Polk State at the following times and locations on April 17:
Polk State Lakeland
3425 Winter Lake Road
11:30 a.m. to 12:30 p.m.
LAC Student Center
Polk State Winter Haven
999 Ave. H N.E.
1:30 to 2:30 p.m.
WST Student Center
Both performances are free and open to the public.