Polk State Theatre's Newest Hire, Mark Hartfield, Is 'Beyond a Trifecta'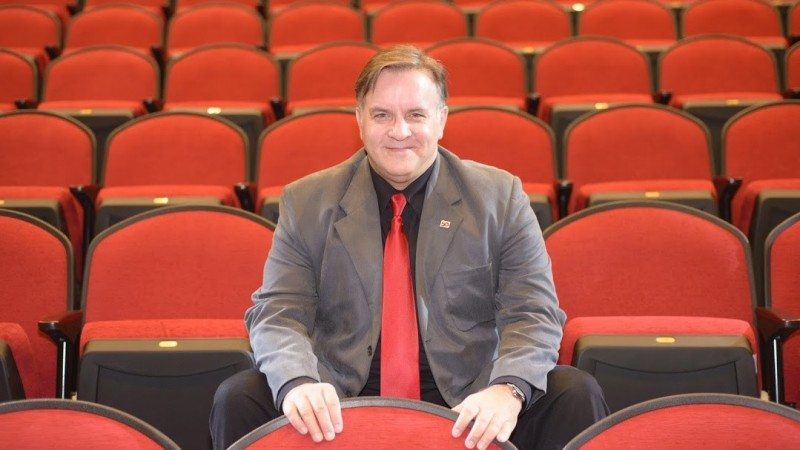 Mark Hartfield has a concise, compelling way of describing his new job at Polk State College:
"I'm not just teaching tomorrow's actors," said Hartfield. "I'm teaching their audiences, too."
For those with even passing knowledge of the arts scene in Polk County, Hartfield is a familiar name. He's performed in and directed nearly two-dozen shows at Theatre Winter Haven, serving as one of its go-to leading men. He's also taught at Lakeland's Lois Cowles Harrison Center for the Visual and Performing Arts and directed a handful of Polk State Theatre productions.
Now, as of August, Hartfield is full-time at the College, teaching humanities and acting courses, as well as directing plays, including two in the 2014-15 season — his "Moon Over Buffalo" debuts Oct. 2.
"Mark Hartfield comes as a complete package," said Norm Small, producing director at Theatre Winter Haven. "He's an extraordinary actor. He knows how to direct a show. He has sat in the administrator's chair, and he's one of the calmest people ever known. That's beyond a trifecta. The College made the right decision."
On his new position, Hartfield added:
"I see this really as a natural progression," he said. "For my theatre students, I get to teach acting in an applied way. For my humanities students, I get to teach them to appreciate art and culture. They aren't all going to go on and take acting and theatre classes, but maybe because of what I teach them, they'll go see a play or go to a museum."
Hartfield's "naturally progressing" career began purely by happenstance, while growing up in Rochester, Minn. His high school's drama department needed more guys for an upcoming production. A good friend asked him to try out. He did, he was bitten by the proverbial "theatre bug," and he never looked back.
"I really enjoyed the performance, but I enjoyed the people even more," he said. "When you're 15, finding a group of people who make you feel comfortable is a really, really big deal."
In his senior year, Hartfield was cast as a lead in "Anything Goes," the 1930s musical comedy in which a love triangle plays out on an ocean liner.
"That was the show that made me decide to do this for my career," he said. "There is a sense of power that comes with being on stage and making people react and respond to you. I really, really liked that."
Hartfield went on to Wheaton College, where he studied speech and communications — fields that could just as easily have led him to law or sales if a career in theatre eluded him.
His next stop was Brandeis University, where he earned his Master of Fine Arts. From there, he took a number of twists and — sometimes strange — turns. He directed a Renaissance Faire in in Pennsylvania. He trained actors for a stunt show at Six Flags in New Jersey. After moving to Florida, he directed shows for Universal Studios, but also spent nearly eight years as a computer programmer.
All the while, even if it wasn't the source of his paycheck, Hartfield stayed involved in the arts, and since moving to Polk County, has primarily been connected to Theatre Winter Haven. It was that connection that led him to Polk State.
"I went to see him in 'Gypsy,' and I was like, 'We have to get him,'" said Paul Carbonell, speech and theatre professor at Polk State and coordinator of the theatre program.
"Now that we got him, let me tell you, he is a huge 'get' for our students. He directs, he performs, he sings, and he's very warm. He is the whole package."
Hartfield brings to Polk State Theatre exceptional strength in his favorite genre — musicals. During the course of the 2014-15 season, he will direct "Footloose," based on the 1984 movie by Kevin Bacon.
"Musical theatre is a genre that people either love, tolerate or hate. For the people who tolerate or hate it, the reason they feel that way is because it's a genre where it's really clear that it is fake," Carbonell said.
"It's hard to do musical theatre with any sense of reality, because of course people don't just break out in song in the middle of conversation. But Mark is able to sing and act in a way that it is rooted in reality and has a sense of believability. That's what I saw him do in 'Gypsy' and that's why I'm excited to have our students learn how to sing it out believably from someone with such a special talent."
If the benefit to students is Hartfield's education, professional experience and knack for one of the most challenging genres around, then the benefit to Hartfield is the artistic freedom that comes with working for a college.
"The shows we select here are all about teaching the students. They're about giving the students the experiences they need so they can move on to bigger programs. It's theatre in a very pure form," Hartfield said.
"Polk County has so much to offer in terms of the theatre and the arts. We have community theatres training young children. We have very exciting arts programs in the high schools. But not everybody is going to go straight to a university theatre program. Polk State is where the talented people we have in Polk County can come and get that extra training."