Polk State Theatre's Season of Comedies Begins Oct. 2 with "Moon Over Buffalo"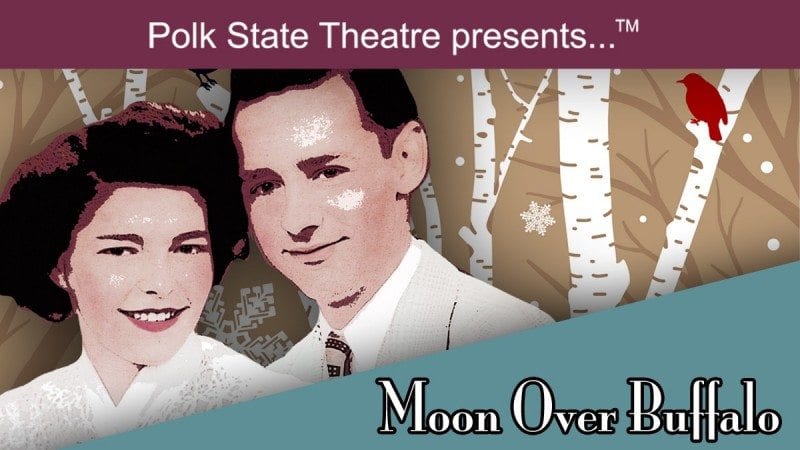 Polk State Theatre kicks off its season of comedies with the madcap "Moon Over Buffalo," in which two fading stage stars try to revive their careers and their marriage.
"The actors have been having such a good time in rehearsals," said Director Mark Hartfield, also a professor of humanities. "That's usually a really good sign that the audiences are going to enjoy the show, too."
Written by Ken Ludwig, "Moon Over Buffalo" debuted on Broadway in 1995. During its 309-show run, it garnered two Tony Award nominations, including best actress for comedic icon Carol Burnett.
Set in the 1950s, the play follows George and Charlotte Hay, actors in the twilight of their careers who still dream of stardom even while performing far-far-off-Broadway.
"They're playing in a not-so-great theatre in the not-so-great theatre town of Buffalo, N.Y.," said Paul Carbonell, producer and professor of speech and theatre.
When George and Charlotte hear that a Hollywood big shot is coming to town to watch their matinee, with an eye toward casting them in his next movie, they think their fortunes may finally be changing.
Instead, hilarity ensues as everything that can go wrong does. George has strayed from his marriage into the arms of a younger woman. The couple is surprised by a visit from their daughter's fiancé. Plus, in a mix-up caused by her deaf stage-manager mother, when Charlotte and George finally take the stage, they aren't sure what play they're performing.
The Polk State Theatre version will be performed in "black box" style, meaning the set will be minimal — consisting in this case of just a row of five doors — and audience members will be seated on the stage.
The stage arrangement, Hartfield said, will put audience members right in the heart of a truly enjoyable comedy.
"Ludwig packed everything about a farce into this play. There are extramarital affairs, cases of mistaken identity," he said.
"This is a very sharp, funny play, with a lot of physical elements — door slamming just for one — and the audience is going to be right there in the play, having a lot of fun."
"Moon Over Buffalo" takes the stage at the Polk State Winter Haven Fine Arts Theatre Oct. 2-5 and 9-12. All shows are at 7:30 p.m., except for Sunday matinees at 2:30 p.m. Tickets are free for students and employees with Polk State IDs, and high school students with ID. Tickets for the general public are $8.
Tickets may be purchased at the box office beginning one hour prior to the show. Because audience members will sit on stage, seating for "Moon Over Buffalo" is limited.
The cast of "Moon Over Buffalo" includes:
Melbin "Rico" Borrero as George Hay, Poinciana
Alainna Whatley as Charlotte Hay, Auburndale
Tatyana Arroyo as Ethel, Coral Springs
Cheyenne Grantham as Rosalind, Winter Haven
Yusak Comas as Howard, Havana, Cuba
Alisha Bermudez as Eileen, Haines City
Jared Roys as Paul, Auburndale
Alejandro "Alex" Valdez as Richard, Farmington, N.M.
The crew includes:
Mark Hartfield, director
Kaylee Bledsoe, stage manager
Paul Carbonell, producer
Stephen Packard, set designer
James Sharp, technical director
Orlando Mora, light designer
Cristina Hartfield, costume designer
Bryce Seckinger, assistant stage manager
Charlie Sigler, lights
Ana Kargakos, sound
Cheyenne Chancy, backstage tech crew
Brianna Chernick, backstage tech crew
Tiffany Nystrom, backstage tech crew
In addition to Theatre, Polk State Fine Arts includes Music and Visual Arts, all of which enjoy outstanding statewide reputations.