Polk State Theatre to Perform "Little Women: The Musical" Nov. 12-15 and 19-22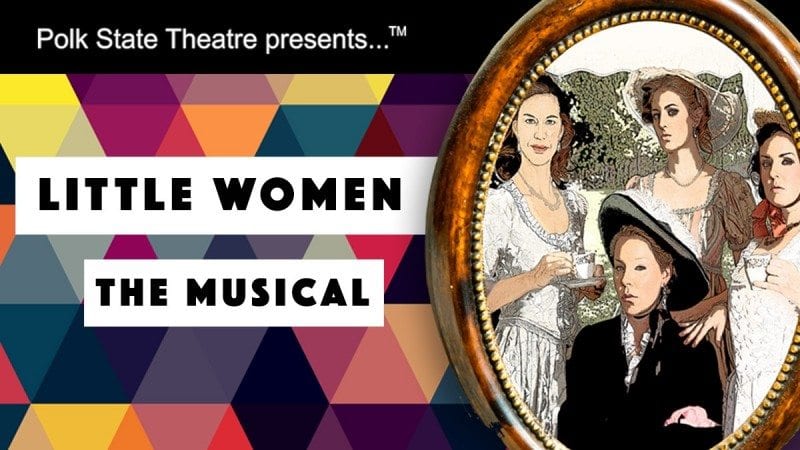 Polk State Theatre will continue its 2015-16 season with a little known, but highly entertaining, musical version of Louisa May Alcott's classic, "Little Women."
"This is going to be 'Little Women' as you've never seen it before," Professor of Speech and Theatre Paul Carbonell said. "It still has all the literary depth — but it has music too."
Penned by Alcott in the late 1800s, "Little Women" follows the March sisters, Meg, Jo, Beth and Amy. The girls' father is serving as a Union chaplain during the Civil War, and in his absence, the girls and their mother, Marmee, contend with poverty and the tribulations of adolescence.
Alcott's classic novel was made into a movie starring Susan Sarandon, Winona Ryder, and Kirsten Dunst in 1994. In 2005, it was made into a Broadway musical. Its run lasted only 55 shows, but the production garnered a Best Actress in a Musical Tony nomination for Sutton Foster, who played Jo.
Polk State Theatre will present "Little Women: The Musical" as part of an ambitious season that spotlights literary classics.
"We've gone from 'what can we do?' to 'what do we want to do?'" Carbonell said of the program's ever-deepening talent and ever-expanding range.
Polk State Theatre will perform "Little Women: The Musical" Nov. 12-15 and 19-22. All shows are at 7:30 p.m., except Sunday matinees at 2:30 p.m. Shows are performed at the Polk State Winter Haven Fine Arts Theatre, 999 Ave. H N.E. Admission is free for Polk State students and employees with ID, and high school students with ID. Admission for the general public is $10. The box office opens one hour prior to curtain. For additional ticketing information, visit polk.edu/boxoffice.
The director for "Little Women: The Musical" is Mark Hartfield. The cast and crew includes:
Hannah Corlew, Winter Haven, Jo March
Sarah Ganey, Winter Haven, Meg March and Clarissa
Trevor Eisinger, Auburndale, Mr. John Brooke and Braxton
Alexandra Horton, Lakeland, Amy March and Troll
Noelle Knopp, Auburndale, Aunt March and Hag
Drew Koon, Lakeland, Professor Bhaer
Suzi Lambert, Lakeland, Marmee March
Kevin Santana, Lakeland, Laurie Laurence and Rodrigo
Shannon Schreier, Winter Haven, Mrs. Kirk
Bayley True, Davenport, Beth March and Rodrigo 2
Alehandro Valdez, Winter Haven, Mr. Laurence and Knight
Michael Burke, lightboard operator
Lizett Echevarria, stage manager
Vicky Hallam, Kimberly James, Alainna West, dressers
Jarred Hulse, soundboard operator assistant
Ana Kargakos, soundboard operator
Britt Mathis and Charlie Sigler, spotlight operators
Sam Ryan, assistant stage manager
Jared Roys, props master
Zain Mann, Ronnie Metcalf, Harrison Weir, running crew
James Sharp, lighting designer
Benjamin Williams, props assistant
In addition to Theatre, Polk State Fine Arts includes Music and Visual Arts, all of which enjoy outstanding statewide reputations.