Polk State Theatre Presents French Farce "The Learned Ladies" Beginning Nov. 13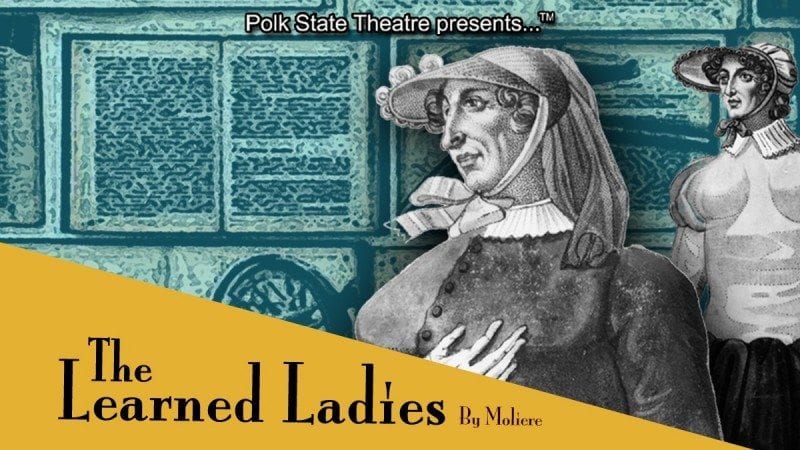 Polk State Theatre's season of comedies continues this month with "The Learned Ladies," a French farce that critics have described as "hilarious" and a "satirical masterpiece."
Penned by Molière in 1672 and translated into rhyming couplets by Pulitzer Prize-winning author Richard Wilbur in 1977, "The Learned Ladies" tells the story of two young lovers whose romance is impeded by the ridiculous pretensions of 17th-century French high society.
The pair, Henriette and Clitandre, intend to marry — but not if Henriette's family has anything to do with it. While her father and uncle support the union, Henriette's mother, Philaminte, as well as her aunt and sister, prefer a rival suitor, Trissotin. The women in this family, you see, consider themselves "learned." The superficial scholar Trissotin better meshes with their highbrow societal aspirations. The family is divided. True love persists. And hilarity ensues.
Polk State Theatre's rendition of the "The Learned Ladies" will include a pre-show surprise. Director Ilene Fins, while not giving away too many details, offered this tease: It will involve a burly guy in a skirt.
"The play is a satire on thoughts about education and love," said Fins. "But all theater ultimately relates to humanity, and actors get to explore humanity by walking in the shoes of their characters. In this play, we're taking that a step further by mixing in a little gender reversal, too."
Polk State Theatre kicked off its 2014-15 season with the American comedy "Moon Over Buffalo" in October. Its spring productions will include "Moonchildren" and "Footloose."
"The Learned Ladies" takes the stage at the Polk State Winter Haven Fine Arts Theatre Nov. 13-16 and 20-23. All shows are at 7:30 p.m., except for Sunday matinees at 2:30 p.m. Tickets are free for students and employees with Polk State ID, and high school students with ID. Tickets for the general public are $8.
Tickets may be purchased at the box office beginning one hour prior to the show.
The cast of "The Learned Ladies" includes:
Tatyana Arroyo as Belise, Coral Springs
Josh Booher as Lepine, Haines City
Kaylee Bledsoe as Chrysale, Winter Haven
Yusak Comas as Clitandre, Poinciana
Brittany Davis as Henriette, Mulberry
Noelle Knopp as Julien and The Notary, Auburndale
Joshua Miller as Ariste, Lakeland
Jared Roys as Vadius and Martine, Auburndale
Charlie Sigler as Trissotin, Winter Haven
Alainna Whatley as Armande, Auburndale
Alex Valdez as Philaminte, Davenport
The producer of the play is Paul Carbonell.
In addition to Theatre, Polk State Fine Arts includes Music and Visual Arts, all of which enjoy outstanding statewide reputations.