Polk State Theatre Presents "Footloose: The Musical" Beginning April 16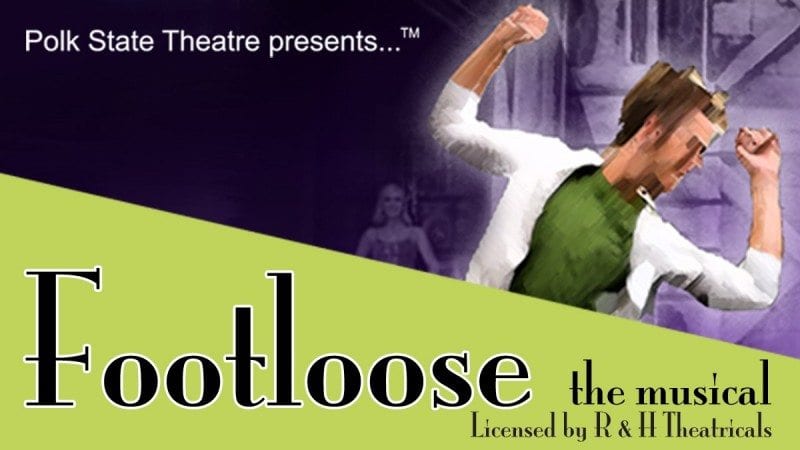 Polk State Theatre will end its season of comedies with a fan favorite, presenting "Footloose: The Musical" beginning April 16.
"It's a musical. It's funsy fun. If you come into the show with any blues, we're going to dance them away," said Polk State Theatre Department Coordinator Paul Carbonell.
Based on the 1984 movie starring Kevin Bacon, "Footloose: The Musical" follows Ren, who has just moved from Chicago to a small town, where a local preacher has outlawed dancing. With the senior prom approaching, Ren leads the fight against the dancing ban, falling in love with the preacher's daughter along the way.
For its timeless teenage-rebellion storyline and hit soundtrack, "Footloose" is a mainstay of pop culture — and Polk State Theatre is pulling out all the stops to do it justice.
"This will be our most ambitious technical extravaganza," Carbonell said.
Director Mark Hartfield explained that a projector and the theatre's fly system —ropes and pulleys above the stage — will be used recreate some of the most recognizable scenes from the movie.
"We have this gigantic stage space, which allows us to do some interesting things," he said.
"One of the challenges of putting on a fairly well known story is that the audience has a certain expectation of what they're supposed to be seeing. We want them to know where they are, but we also have to change scenes quickly. In a movie, they can just cut to a new scene, but on stage, you have to move the scenery. By using the projection and fly systems, we can make the transitions smooth and still give the audience that sense of place."
"Footloose: The Musical" concludes Polk State Theatre's season-long exploration of comedies; previous productions included "Moon Over Buffalo," "The Learned Ladies" and "Moonchildren."
"Footloose: The Musical" takes the stage at the Polk State Winter Haven Fine Arts Theatre April 16-19 and 23, 24, 26. All shows are at 7:30 p.m., except for Sunday matinees at 2:30 p.m. Tickets are free for students and employees with Polk State ID, and high school students with ID. Tickets for the general public are $8.
Tickets may be purchased at the box office beginning one hour prior to the show. The Polk State Winter Haven Fine Arts Theatre is located at 999 Ave. H N.E.
The cast for "Footloose: The Musical" includes:
Sean Philibin, Orlando, Ren McCormack
Kaylee Bledsoe, Winter Haven, Ethel McCormack
Jamey Brown, Davenport, the Rev. Shaw Moore
Karissa Barber, Lakeland, Vi Moore
Noelle Knopp, Auburndale, Ariel Moore
Brittany Davis, Mulberry, Lulu Warnicker
Travis Whirl, Winter Haven, Wes Warnicker
Clement Petit, Winter Haven, Coach Dunbar
Andriana Chavez, Haines City, Eleanor Dunbar
Tatyana Arroyo, Winter Haven, Rusty
Kasey Leamon, Lakeland, Urleen
Laura Costine, Lakeland, Wendy Jo
Yusak Comas, Poinciana, Chuck Cranston
Ty Jackson, Davenport, Lyle
Chris Eubanks, Lake Wales, Travis
Alejandro Valdez, Davenport, Willard Hewitt
Zackeir Minniefield, Dundee, Jeter
Jared Roys, Auburndale, Bickle
Jonathan Janack, Winter Garden, Garvin
Taylor Bush, Winter Haven, Betty Blast
Michael Defelice, Winter Haven, Principal Clark
Michelle Johnson, Lake Alfred, Cowgirl Bobbi
Ali Arrington, Winter Haven, ensemble
Laya Choate, Clermont, ensemble
James Gilley, Winter Haven, ensemble
In addition to Theatre, Polk State Fine Arts includes Music and Visual Arts, all of which enjoy outstanding statewide reputations.