Polk State Theatre to Perform "A Doll's House" Feb. 4-7 and 11-14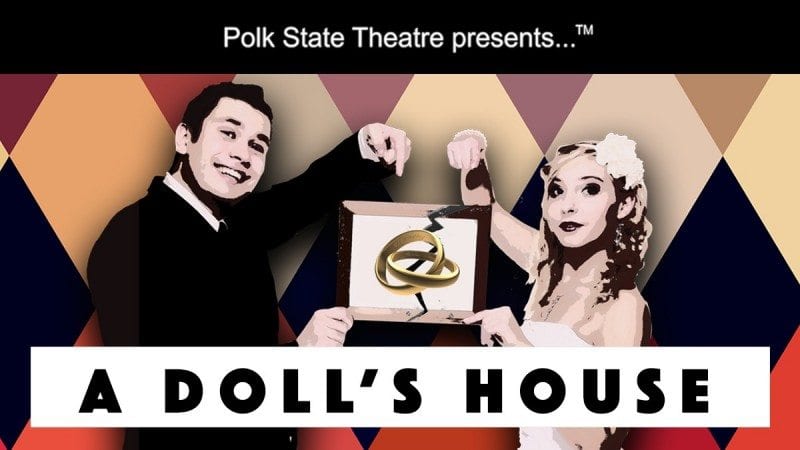 Polk State Theatre continues its 2015-16 season with "A Doll's House," the tale of a woman who must choose between keeping her family intact or being true to herself, which continues to captivate audiences even more than a century after its debut.
"This play was the first time that female empowerment was put on the stage. It was the first time that a woman walked out of her marriage and her children in an art form. It was so controversial that it was banned in some countries," said Polk State Professor of Speech and Theatre Paul Carbonell, who is directing "A Doll's House."
"But its themes of discovering and living as one's true self, even if that means eschewing social norms and expectations, continues to be highly relevant in our society. I think everyone who comes to see this show will be able to relate to it in some way."
Penned by Norwegian playwright Henrik Ibsen in 1879, "A Doll's House" tells the story of Nora Helmer, who while embroiled in a secret financial transaction and the ensuing suspicions it creates, realizes that she must leave her husband and three young children — and life in which she feels treated like a doll — in order to discover her true self.
"A Doll's House" opened on Broadway in 1889 and has enjoyed numerous revivals. Polk State Theatre's production, Carbonell said, will offer a new experience for audiences.
"This play was one of the first examples of pure realism. It's very simply acted. The setting is all very realistic. You are literally a fly on the wall in the couple's house," Carbonell said.
Polk State Theatre will perform "A Doll's House" Feb. 4-7 and 11-14. All show are at 7:30 p.m., except for Sunday matinees at 2:30 p.m. Shows are performed at the Polk State Winter Haven Fine Arts Theatre, 999 Ave. H N.E. Admission is free for Polk State students and employees, and high school students, with ID. Admission for the general public is $10. The opening-night performance is free for all. The box office opens one hour prior to curtain. For more information, or to purchase tickets, visit polk.edu/boxoffice.
The cast for "A Doll's House" includes:
Alexandra Horton, Lakeland, as Kristine Linde
Kimberly James, Davenport, as Helen
Ana Kargakos, Winter Haven, as Nora Helmer
Ronnie Metcalf, Lakeland, as George
Sydney Reynolds, Lake Alfred, as Anne Marie
Jared Roys, Auburndale, as Nils Krogstad
Charlie Sigler, Winter Haven, as Dr. Rank
Alejandro Valdez, Winter Haven, as Torvald Helmer
The crew includes:
Lizett Echevarria, Auburndale, assistant stage manager
Vicky Hallam, Lakeland, assistant director
Tiffany Nystrom, Davenport, stage manager
In addition to Theatre, Polk State's arts programs include Music and Visual Arts, all of which enjoy outstanding statewide reputations.