Polk State Theatre Makes History with Sold-Out Opening-Night Performance; "Footloose: The Musical" Continues April 23, 24, 26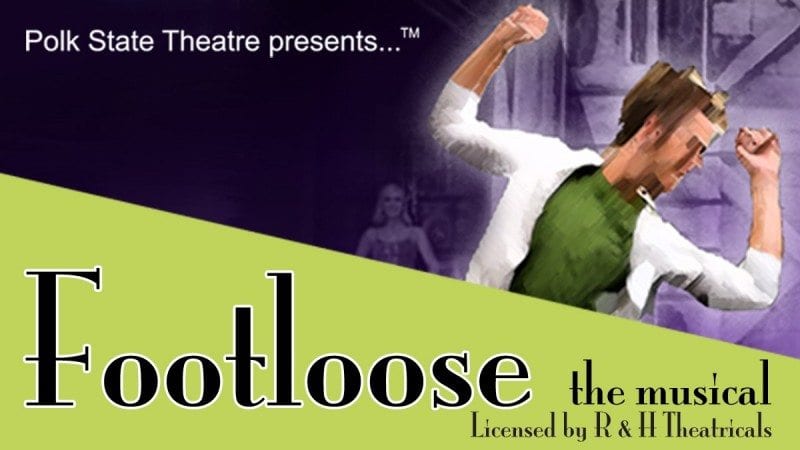 Polk State Theatre made College history last week, with a sold-out opening-night performance of "Footloose: The Musical."
Director Mark Hartfield described the April 16 play opening:
"We had good houses all weekend, but Thursday was pretty amazing. You could hear the crowd from backstage, which was exciting for the cast and crew. I've never seen as many seats filled on an opening night."
Polk State Speech and Theatre Professor Paul Carbonell confirmed that it was the College's first-ever sold-out debut.
Based on the1984 movie starring Kevin Bacon, "Footloose: The Musical" follows Ren, who has just moved from Chicago to a small town, where a preacher has outlawed dancing. With the senior prom approaching, Ren leads the fight against the dancing ban, falling in love with the preacher's daughter along the way.
Polk State Theatre has gone to great technical lengths to stage "Footloose: The Musical," including using a projector and the fly system, a series of ropes and pulleys above the stage, to recreate some of the most recognizable scenes from the movie.
Those who have not yet had the chance to enjoy Polk State's version of "Footloose: The Musical" need not despair. The final performances of the show take place April 23, 24 and 26. Shows are at 7:30 p.m., except for Sunday matinees at 2:30 p.m. Shows take place at the Polk State Winter Haven Fine Arts Theatre, 999 Ave. H N.E.
Tickets are free for students and employees with Polk State ID, and high school students with ID. Tickets for the general public are $8.
In addition to Theatre, Polk State Fine Arts includes Music and Visual Arts, all of which enjoy outstanding statewide reputations.